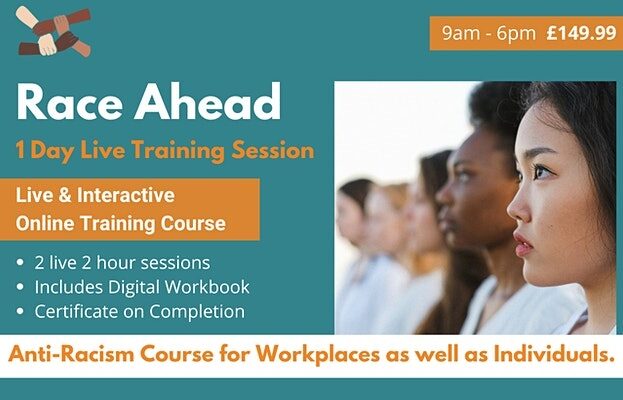 Our new Race Ahead Live training course has been designed to be interactive and included our original Race Ahead Digital training bundled up into one day.
Our host Bianca Jones will guide you through the course and answer any questions you have within a safe space. Our non-judgmental approach is great for people who are unsure about what to say or not say in uncomfortable situations in the workplace regarding race and racism. This course is a great top-up to our Mental Health First Aid Training course.
WHY ANTI-RACISM?
37% of people of colour say they have been bullied, abused or singled out because of their race. Leading to 57% of black women in particular to have suffered a mental health problem due to workplace bullying.
Black African, Bangladeshi and Pakistan graduates are the least likely group to be offered jobs.
Black men are 5x more likely to develop psychological illnesses (like psychosis) due to the social and economical factors related to racism. This includes experiences of discrimination, covert and overt racism, oppression and isolation, particularly in the workplace.
Black People hold just 1.5% of leadership positions across the public and private sector in the UK.
Maybe these statistics don't surprise you. Maybe they do. But you're here, just like us, because we'd like the situation for black and brown individuals in society to be equitable.
The Race Ahead programme is designed to help not only you as an individual. But you as a key stakeholder and decision maker in your organisation, to understand and address systemic racism and the disparities that this causes in the workplace.
We want you to understand the detrimental impacts of discrimination. No matter how unintentional.
We want you to feel confident when speaking about race and racism to all those above and below you.
And we want you to have the tools you need to create an organisational approach to tackling these issues. These issues which negatively affect the mental health and wellbeing of your black and brown colleagues and employees.
More Online Events Listings MORE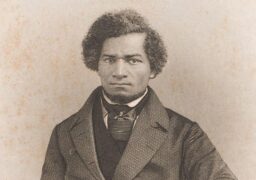 Online Events
Wednesday 6 December
A virtual tour highlighting sites around the UK/Ireland where freedom fighter Frederick Douglass had a strong impact with…