This is a live online event hosted by The Research Forum at The Courtauld for the Centre for American Arts.
The platform and log in details will be sent to all registered attendees at least 48 hours before the event. Please note that registration closes 30 minutes before the event start time.
Important: If you have previously ever opted out of Eventbrite emails you will not receive the log in details for this event after registering. Please email researchforum@courtauld.ac.uk if you do not receive a confirmation email. Please check your junk folder before emailing us just in case it is in there.
The 2020 exhibition Riffs and Relations opened at the end of February to rave reviews. The Phillips Collection and guest curator Adrienne L. Childs had put together a groundbreaking exhibition that posed fascinating and sometimes difficult questions about Black artists and their relationship to the almighty force of modernism in the twentieth century. How had Black modernists engaged with European sources and to what ends? Why did some Black post modernists reject the art historical canon and others embrace it? How did Black artists negotiate the often-fraught push and pull of Western canon?  After just two weeks of a fevered pitch of programs, tours, and press, the ground really did break, and the exhibition had to shut down due to COVID 19.  This presentation will chronicle the conception and planning of Riffs and Relations, taking a hard look at the triumphs and missteps.  I will discuss how we pivoted to a digital experience and lessons learned. What might Riffs afterlife be?
Adrienne L. Childs is an art historian and curator. She is an adjunct curator at The Phillips Collection and associate of the W.E.B. Du Bois Research Institute at the Hutchins Center for African and African American Research at Harvard University. She curated the exhibition Riffs and Relations: African American Artists and the European Modernist Tradition, 2020, at the Phillips Collection. Her current book project is Ornamental Blackness: The Black Figure in European Decorative Arts, forthcoming from Yale University Press. She has held fellowships the Lunder Institute at the Colby College Museum of Art, the Center for Advanced Study in the Visual Arts (CASVA), The Hutchins Center at Harvard University, The Clark Art Institute and the David C. Driskell Center.
Organised by Professor David Peters Corbett (The Courtauld) and Dr Tom Day (The Courtauld).
Image: 'Riff and Relations', Installation View, Phillips Collection, Washington D.C., 2020.
More Online Events Listings MORE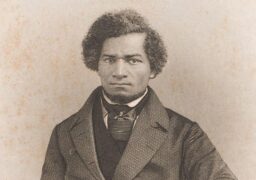 Online Events
Wednesday 6 December
A virtual tour highlighting sites around the UK/Ireland where freedom fighter Frederick Douglass had a strong impact with…