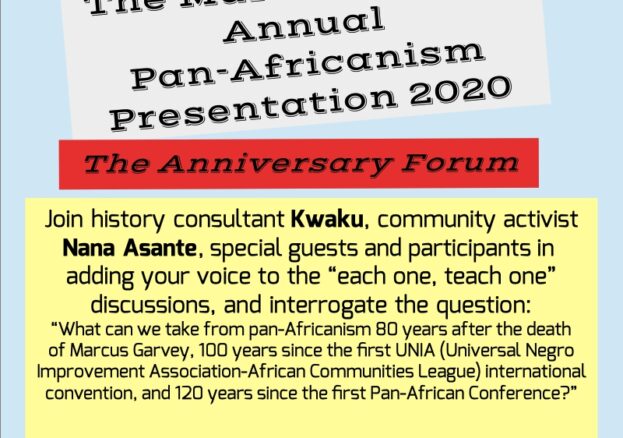 In marking the pan-Africanism, Marcus Garvey and UNIA-ACL milestones and migrating online, this year's format is an open anniversary forum.
BTWSC/African Histories Revisited, TAOBQ (The African Or Black Question) presents in association with Friends Of Marcus Garvey Bust Collective and Brent Museum and Archives the fourth Marcus Garvey Annual Pan-Africanism Presentation 2020: The Anniversary Forum.
This is an inclusive, family-friendly event. Click here to book.
This year, history consultant Kwaku assisted by community activist Nana Asante will facilitate a round table-type discussion among participants and special guests to interrogate the question:
"What can we take from pan-Africanism 80 years after the death of Marcus Garvey, 100 years since the first UNIA (Universal Negro Improvement Association-African Communities League) international convention, and 120 years since the first Pan-African Conference?"
The forum is open to anyone* in the meeting to improve our knowledge of pan-Africanism invoking the "each one, teach one" mode.
Event will start with the screening of 'Marcus Garvey Quoted', a short video by Kwaku, featuring Mandingo reading quotes by Marcus Garvey, underscored by a Mad Professor/Robotiks dub track.
*NOTE: This paid-for event is expected to attract people who are either serious about learning, or sharing their knowledge, about pan-Africanism and its history.
There will be African-centred bespoke mugs on sale. Any purchases made during the event will be post free.
The event is part of marking Marcus Garvey/UNIA-ACL 80:100 and UN's International Decade For People Of African Descent (IDPAD) initiative.
This is meant to be an inter-generational event, so you are welcome to bring young people.
You can express your interest in making an oral presentation (must provide title of presentation) or guaranteeing having a chance to make a comment or raise a question by emailing in advance Kwaku: bbmbmc @gmail.com.
Produced by BTWSC/African Histories Revisited in association with Friends Of Marcus Garvey Bust Collective @ WGLC and Brent Museum and Archives. For enquiries: btwsc@hotmail.com.
Click here for other BTWSC/African Histories Revisited events.
More Online Events Listings MORE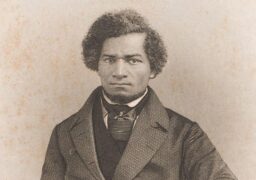 Online Events
Wednesday 6 December
A virtual tour highlighting sites around the UK/Ireland where freedom fighter Frederick Douglass had a strong impact with…