Black History Studies in association with Rio EnCantos presents a virtual tour titled 'Black History Walk and Street Art in Rio de Janeiro's Little Africa' on Saturday 7 August 2021.
There is a "Little Africa" in Rio that is still unknown by most people. You will learn about the history of the port and its role on the slave trade, its labour movements and economic growth; Brazilian Black History Figures. This route is about Brazilian history and its African roots. It showcases archaeological sites and how they're deeply connected with who we are as Brazilians.
Here you will find out about one of the most prominent art hubs and hear about resilience, historic figures that helped to built up our wealth on the fields of science, philosophy, music, religion, gastronomy, and culture in general. Get to know about some of the people who fought for freedom and built the foundations of Black movements in Brazil.
Embark on your discovery on a legacy tour through our African Heritage Route, visiting sensitive sites of memory such as:
The Valongo Warf where most of our African ancestors arrived on the 1800s.
Stop at the archaeological sites of Pedra do Sal, one of Little Africa's samba cradles;
The UNESCO World Heritage Site for the Transatlantic Slave Trade in Rio's port area,
The sacred ancestral Banyan tree;
Visit the slave cemetery at the Institute of New Blacks,
The spray-painted mural "Ethnicities" that is featured in the Guinness Book.
More ONLINE EVENTS Listings MORE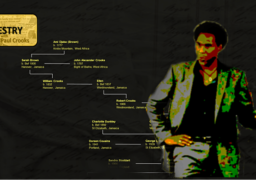 ONLINE EVENTS
Sun, 20 Jun 2021, 19:00 – Sun, 31 Oct 2021, 20:00 GMT
Guidance on tracing your ancestors and bringing your Black history to life. This talk complements Paul Crooks' talk…