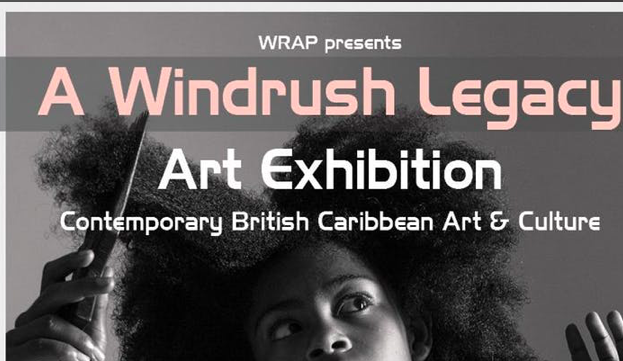 WRAP (Windrush Radio Art Project) presents A Windrush Legacy: Contemporary British Caribbean Art & Culture, 6th – 22nd June, Rich Mix, London E1 6LA. Reserve your place for the private view here…
PLUS find out more about WRAP's Wine & Dine, dinner and cabaret, Saturday 15th June, 6pm- Midnight, Rich Mix, London E1 6LA. https://richmix.org.uk/events/wine-dine-dinner-cabaret-windrush-celebration/
Join us for the exhibition's private view, Thursday 6th June, 6 pm, and explore the work of leading British Caribbean and other BAME artists, view art by young learners from Hackney Literacy Pirates (inspired by their conversations with Windrush elders) as well as art produced for the #WeAreAllWindrush campaign and Praxis. The exhibition also has a presentation by Hackney Archives of R.A. Gibson's forgotten photograph collection, 1952-1978.
Artists participating are:
Danny F., Benji Reid, Bethan Lant, Ashton Attzs, Sharon Foster, Lindo Khandela, Merissa Hylton, Rachelle Romeo, Joseph Samuels, Kendra McNichols, Cressida Djambov and Penelope Mendonca
Live Art: Azara Meghie and Demelza Woodbridge
There are limited places for the private view so please RSVP if you wish to attend.
workshops and artist talks TBC.
And, if you love Caribbean food and entertainment, WRAP invites you to our Wine & Dine, dinner and cabaret, Saturday 15th June, 6 pm – Midnight, Rich Mix, London E1 6LA. We have dinner service by The Posh Club, their host Azara Meghie presenting top acts including renowned comedian Ping Wing and ska and rocksteady masters The Mighty Cosmics
General tickets available at Rich Mix https://richmix.org.uk/events/wine-dine-dinner-cabaret-windrush-celebration/
Tickets for elders, please email: tickets@reelrebelsradio.com
Table seats: Windrush Elders: £10/ Non Windrush Elders: £20
General tickets: £15