Don-e, Junior Giscombe, Noel McKoy and Omar
The core members of this landmark group are Don-e, Junior Giscombe, Noel McKoy and Omar, who have been amongst the 'Torch Bearers' of authentic British soul music since the 80's. Individually, they have sold millions of records worldwide, recorded some of the most iconic British soul anthems and won many notable industry awards. They have performed, written for and recorded with many of the world's R&B's legends, such as Stevie Wonder and Phyliss Hyman through to Erykah Badu and Angie Stone in the neo-soul space.
This fully collaborative and iconic project brings together seasoned artists, musicians and performers who continue to carry forward the torches they lit several decades ago. There is no 'lead' singer, when it's their time to step to the mic, they do so. True collaboration, that deserves its place as 'A seminal moment in British soul music history.'Members include:
Junior has been one of the most successful UK soul artists of all time. He was the first black British artist on Soul Train. A Grammy winner and to this day enjoys notable status in the USA amongst his A-List Peers.
Omar broke onto the world music scene in 1991. His unique style is well sought after and continues to see him collaborate with some of the most reputable artists on the planet.
Don-E broke onto the music scene in the 90's through Island Records. From an early age, he was always mature beyond his years. A truly extraordinary talent.
Noel made his debut back in the late 1980s and has continued to show his versatility as an artist, writer and producer. His journey has taken him across several genres positioning him as one of the most consistent performers in music.
AFTER SHOW DJ – Tue & Wed until 12am • Thu until 1am • Fri & Sat until 2am
Please note your dining time is 7.00pm (Excluding lounge tickets) – if you wish to change this to an earlier or later dining time please contact our reception team after you have purchased your tickets on 0207 715 5818 or email reception@boisdale-cw.co.uk attaching your ticket.
More Tower Hamlets Listings MORE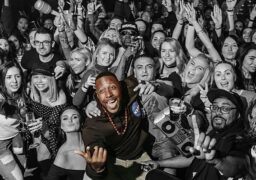 Tower Hamlets
Tuesday 7 September - Tuesday 7 December 2021
This monthly comedy night will take place in the intimate setting of Beatbox. Host Aurie Styla is doing…