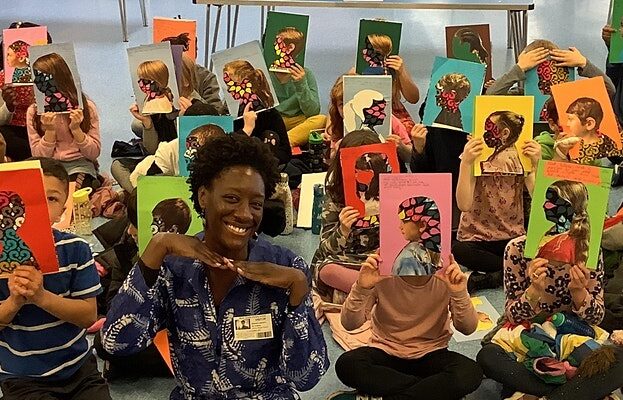 Explore your identity and creativity and reimagine yourself as a work of art!
Think you 'can't draw'? So, what? Collage art is all made up. As a self-taught artist, I am confident I can teach you my technique and help you to work through anxiety, focus your mind and create freely.
Each session starts with a check-in, mindful breathing and warm-up drawing exercises which helps to relax, create wellbeing and improve your confidence.
Everyone deserves to see themselves as a work or art and why not create a portrait collage of yourself or a loved one! You are free to draw anything you like, bring a picture for inspiration!
Step-by-step I will teach my unique paper cut and textile collage technique and provide you with close guidance along each step of the sketching and cutting process.
Finally you will pick a vibrant African print textile and bring your artwork to life!
About your Mindful African Art teacher, Birungi Kawooya
Birungi Kawooya is a collage artist and teacher inspired by nature, the beauty of Black women and the ingenuity of dance from the African diaspora using batik, paper and paint.
She leads Mindful African art classes and creates space for wellbeing of school children, young people, artists and beginners to express themselves using vibrant African textiles. With a focus on promoting mental well-being, Birungi is a mission to creating relaxing environments which people work through anxiety, stimulate their imagination and connect to vibrant African textile designs.
About Birungi Kawooya's artistic practice
Her portraits celebrate Black womxnhood, elevating rest, joy and wellbeing. Nostalgia and family also inform her practice, from memories of kitchen discos with her siblings and Kiganda dancers at weddings.
She creates art she wants to see more of in the world and therefore her primary theme is depicting Black womxn, usually with flawless jet-Black skin. Birungi seeks to elevate Black womxn so that they can see themselves as works of art and gain self-esteem. In 2020 she reflected on how Black womxn are pivotal in leading social justice movements and decided to focus on compelling Black womxn to protect their dreamspace with the "Sisters Need Sleep" collection. The collection celebrates Black womxn resting and taking care of themselves. By prioritising self-care, the figures in "Sisters Need Sleep" resist the forces of domination in themselves and to contribute to a more equitable society for all.
Birungi's art explores movement through paper silhouettes illuminated by Ugandan batik textiles which connects the dance pieces to her heritage. Endlessly inspired by dancers, Birungi aspires to translate the motion, skill and soul of dance from the African diaspora into 2-dimensional pieces. Dance styles include traditional Ugandan dances, Afro-Brasilian samba and African-American Hiplet.
Her work is often infused with the lush plant life such as tropical flowers and matooke (banana) trees which are common in Uganda and are referenced in the Josephine Baker collection.
Birungi has led online and in-person art workshops for UAL, Black Mind, Sheffield Maternity Cooperative and Peckham Platform.
More Westminster Listings MORE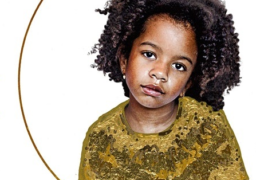 Westminster
Friday 8th July - Saturday 9th July
Christian Azolan's first solo art exhibition 'Little Black Girls' symbolises, ethnicity, womanhood, power, love, royalty and religion. …