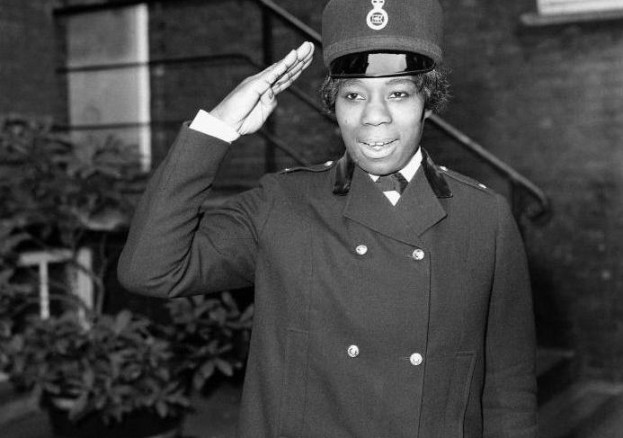 Sislin Fay Allen was an inspiration for many when she became the Metropolitan Police's first black female police officer, based at Croydon in the late 1960s.
In 1968, Sislin Fay Allen, a nurse at Croydon's Queens Hospital, became Britain's first Black policewoman.
Sislin Fay Allen was flicking through a newspaper in 1968 when she saw an advert for male and female police officers to which she replied.
At the time there were no black female officers so the mum-of-two sat down and wrote an application. Within a few weeks Sislin had made it to the interview stage, shocking her husband and family when she was accepted.
"On the selection day there were so many people there, the hall was filled with the young men. There were ten women and I was the only Black person." After taking a set of exams and a stringent medical, Sislin Allen was told she had passed and would start work at Croydon's Fell Road Police Station.
"I can remember one friend said, `Oh they wouldn't accept you, they don't accept Black people in the force', and so I said `Well my dear, I've got news for you' and I showed her the letter."
"The first day on the beat in Croydon was daunting, but it wasn't too bad because
I went out with an officer. People were curious to see a Black woman there in uniform walking up and down, but I had no problem at all, not even from the public. On the day I joined I nearly broke a leg trying to run away from reporters. I realised then that I was a history maker. But I didn't set out to make history; I just wanted a change of direction.
The first prejudices Sislin encountered came from her own community, for joining the police force.
She says: "Many of us, as you well know, have some sort of perception of the police that isn't all that good. I was asked how I could leave nursing and join the police force. It was like joining something degrading."
After her training and passing out ceremony Sislin was stationed in Croydon so she could be close to her family.
Describing her first day on duty in Croydon as daunting, Sislin says her patrol was met with a mixture of stares and people coming up to congratulate her.
"After a while the stares soon passed," she adds. "My colleagues were very accepting – in Croydon really and truly. I didn't have any problems there. I just did my work and after about a year I was posted to Scotland Yard."
Sislin worked in the Yard's missing persons bureau for a while before she was transferred to Norbury police station.
Sislin's appointment as the Met's first black female police officer prompted some hate mail, but while her bosses told her of the letters, she was never shown them.
"They gave me the good ones," Sislin added. "They never, ever gave me the bad ones. They told me about them but they never showed me because they thought it would distress me and maybe they thought I would resign."
In 1972 Sislin left the Metropolitan Police because of family commitments, returning to her husband's birth country of Jamaica with their children. She joined the Jamaican police force and received a welcoming letter from the then Prime Minister, Michael Manley.
Sislin later returned to the UK with her family and settled in south London.