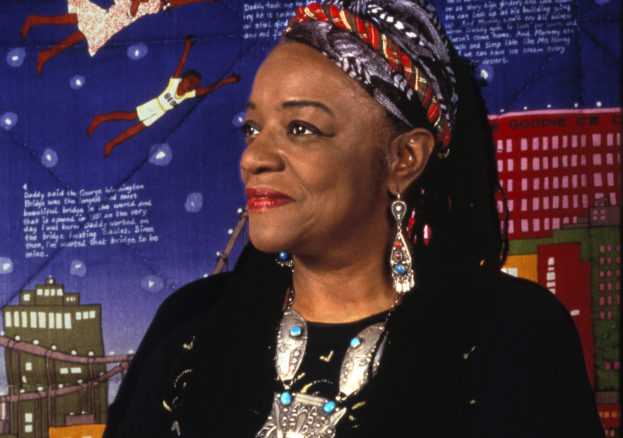 For the first time Faith Ringgold's extraordinary work is being shown in London as a major solo exhibition at the Serpentine Gallery. Born in Harlem in 1930 her spectacular artworks depict an untold history of the lives and suffering of the African American in a climate where many of the underlying troubles leading up to the formation of the Civil Rights Movements and then the Black Power Organisation of the 1960s were not featured in the media. We recognise through her work, a source of news in its own right, how little we know of the backdrop to the suffering caused by race related laws and underlying issues. Ringgold, a self assured yet quietly confident artist's humility is complemented by a temerity that comes with maturity.
Since her youth she has been influenced by her contemporaries of which there were many where she grew up in Harlem and simultaneously by Picasso whose works had influenced her to a degree. She has never shown a fear of depicting the truth which is evidenced through all her series of works through the decades until now. It is to be remembered that artists of colour were not given any support nor publicity, to the contrary any artworks deemed inflammatory in any way were basically in an unspoken manner banned.
Faith Ringgold is now 88 years old, still working and has lived through some of the most turbulent times in American history and it is evident in her artworks.  As one muses over the details of her "quilts" she goes to great pains to explain that her works are on canvas, clearly not recognising the genius of painting on canvas, carefully stitched to resemble a (padded) quilt before taking in the details of the scene itself. "They are canvas" she emphasises in no uncertain terms as though there was nothing extraordinary about canvas, after all it is the most conventional medium for artists to use.
Ringgold explains that as an artist she has a responsibility to tell the truth and in every work there is a detailed story against a backdrop of generic social injustices of the period and hope, not to mention her own personal life experiences.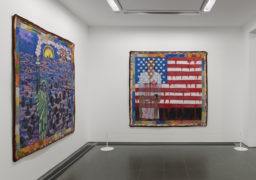 This ground-breaking work of Faith Ringgold  is celebrated in this exhibition at the Serpentine Galleries, her first in a European institution. For more than five decades, Ringgold has consistently challenged perceptions of African American identity and gender inequality through the lenses of the feminist and the civil rights movements. As cultural assumptions and prejudices persist, her work retains its contemporary resonance. Focusing on different series that she has created over the past 50 years, this survey of her work  includes paintings, story quilts and political posters made during the Black Power movement including one to free activist Angela Davis.
Growing up in the creative and intellectual context of the Harlem Renaissance, Ringgold has worked prolifically since the early 1960s, and is widely recognised for her politically charged paintings, story quilts, protest posters, popular children's books and as an influential art educator. Protest and activism have remained integral to Ringgold's practice, she co-founded the group the National Black Feminist Organization in 1973 along with her then 18 year-old daughter, Michele Wallace and in 2016 she published We Came to America, a children's book that celebrates cultural diversity.
In her practice Ringgold draws upon a wide range of visual and cultural sources, from the traditions of quilt-making and its position within the history of slavery to early European Modernism, to tankas – richly brocaded Tibetan paintings – and the graphic symbolism of African masks. In the 1960s, for her 'American People' series (1963-67) Ringgold took the American dream as her subject to expose social inequalities. By the 1970s, Ringgold, with Wallace, was leading protests against the lack of diversity in the exhibitions programme at New York's Whitney Museum of American Art, and in 2018 saw her work included in an exhibition there on the subject of protest. Ringgold's quilts dating from the early 1980s weave together her personal stories and writings with the history of African Americans – a tradition passed on to her by her great-great grandmother Susie Shannon who was born into slavery and was made to sew quilts for plantation owners. A vital figure in the canon of American art, Ringgold has also written a much-read autobiography We Flew Over the Bridge (1995): 'I have always wanted to tell my story, or, more to the point, my side of the story.'
Ringgold's work is now widely known in the USA and many of her coveted artworks are part of private and museums collections.
The exhibition is on at the Serpentine Gallery Kensington Gardens London W2 3XA from June 6th until September 8th.