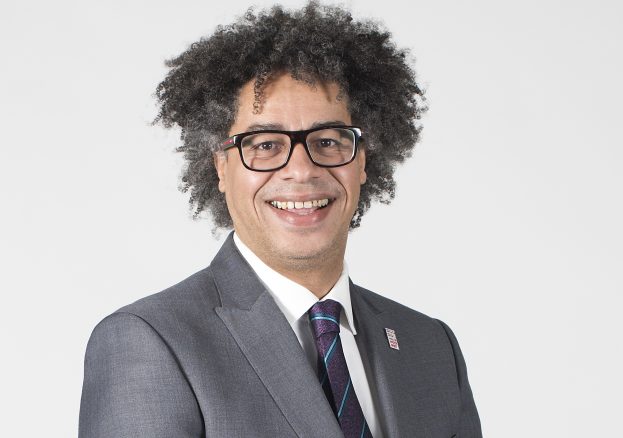 The discrimination and challenges people from BAME backgrounds face has been widely covered. Last year David Lammy MP published his report, concluding that BAME individuals still face bias, including overt discrimination, in parts of the justice system.
Last week, the Prime Minister launched a series of measures to tackle barriers faced by ethnic minorities, after her pioneering Ethnicity Facts and Figures website showed some worrying statistics relating to ethnic minority progression in the workplace. As we approach the 50-year anniversary of the Race Relations Act in a few weeks, these are some very sobering reads.
I'm often asked how I have progressed from an office junior, who didn't go from school to University (I subsequently studied three degrees part-time), to sitting on the Health and Safety Executive's Board, considering the challenges people from my background can encounter.
I joined the Civil Service in January 1991 and my first role at the Cabinet Office was filing. It felt like I had joined a family. I was taken under the wing of colleagues, particularly my first line manger Ian Dougal, who helped me to see the opportunities available to me.
I've been privileged to work with, learn from and be mentored by some of the best minds within the Civil Service. I love the Civil Service and our people.
Nonetheless, I've had to learn how to navigate Whitehall, and our stakeholders, as well as develop skills in different functions. Some will say my progress has been luck – in the most offensive cases, some may even say tokenism – but they would be wrong. I've had knocks like most, but I've used adversity to build resilience, almost adapting my DNA as I go.
Three approaches helped bring out my talents.
Firstly, I ensure I know my subject matter. This is not always easy when one moves from pensions policy to health and safety. I have worked on a personalised methodology, which helps me get up to speed on policies within 90 days.
Secondly, I've kept my options open. I led the Government's national tackling of race inequalities in 2008 and later took on a senior communications role at Department of Work and Pensions. One of the benefits of the Civil Service is the ability to move around departments and roles.
Finally, I try to be myself irrespective of whomever I am dealing with. My background is a hugely important part of who I am and I believe it makes me more successful. I am proud to be of dual heritage: my mother is of Irish immigrant heritage, while my father is part of the Windrush generation, having been born in Jamaica and arrived in the UK in 1954 to attend Boarding school. I've been raised in two villages – Wimbledon village (where I grew up) and the Westminster village, where I became a reluctant BAME public sector leader.
I didn't set out to be in this position, but unwittingly I have. I feel proud and humbled that last year I was named as one of top 50 BAME public sector leaders in the New View 50. In 2009 I was named Civil Servant of the year, my proudest achievement, along with being a trustee at the Stephen Lawrence Centre (where I helped Doreen and Stuart Lawrence raise the funding to build the Centre).
Today, I'm the Civil Service Deputy Race Champion. It's a privilege to have been asked to take on this challenge, but one that I don't take lightly. It is a position of real responsibility, and I'm determined to make a lasting difference. I support Richard Heaton, the Civil Service Race Champion and the Permanent Secretary of the Ministry of Justice – challenging and pushing departments and networks to raise their game – and sponsor and champion the Civil Service Ethnic Diversity Programme (EDP).
The EDP was established to improve the representation of ethnic minority staff at the most senior levels across the Civil Service and create a sustainable talent pipeline. If we succeed in our ambitions, representation of ethnic minority and disabled staff will be approximately double what it is now by 2025.
I am not complacent and know that this is not an easy challenge when only 12.0% of Civil Servants are from an ethnic minority background, with only 5.2% at Senior Civil Service level.
It is reassuring that the percentage of ethnic minority representation in every grade has increased since 2010, but the current levels are not good enough, and the Civil Service would like to – and needs to – do more to increase levels of diversity, particularly in senior roles.
The EDP focuses on supporting this ambition through a series of activities such as mentoring, providing positive role models, identifying and eliminating barriers and raising awareness of the business benefits of diversity to all.
Looking ahead, the Civil Service faces the triple challenge of attracting talented leaders from an ethnic minority background, retaining our excellent ethnic minority Civil Servants in a competitive market place for talent and developing our current ethnic minority colleagues to progress throughout the talent pipeline. I am fortunate to be part of a cross-government cadre of senior leaders from all races who are committed to increasing ethnic diversity across the Civil Service. I expect that one day when I reflect over my career, this period will have been one of the most challenging but also one of the most rewarding.
I passionately believe that the Civil Service can only truly be at its best when it reflects the diverse communities that it serves. I hope that one of my legacies will be to have been helping to lead its transformation.
Selvin Brown MBE
Director, Engagement and Policy, Health and Safety Executive
Civil Service Deputy Race Champion
Non-Executive Director, the Civil Service Charity