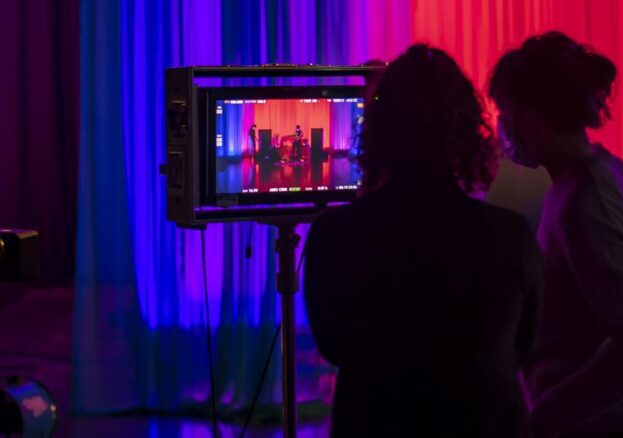 National Film and Television School (NFTS)  have announced the Black British Woman Cinematographer Scholarship Award. Supported by Netflix, the scholarship will provide funding to support emerging black women filmmakers with the aim of increasing gender equality and representation behind the camera.
Applications are now open to apply for the Scholarship Award, with the first recipient joining the NFTS Cinematography MA in January 2023. Netflix will entirely fund the two year NFTS Cinematography MA in addition to supporting annual living expenses.
Upon completion, the NFTS and Netflix will work with the scholarship recipient to plan and support their next steps into the industry, putting them forward for work placements and employment opportunities on Netflix UK productions.
The NFTS course is the only two-year specialist cinematography MA in the UK with an intake of just 10 students per year learning both the art and craft of cinematography, combining creative expression with technical expertise.
Director of UK Features at Netflix Fiona Lamptey said: "In a year where a woman has been nominated for only the first time in BAFTA's history as Best Cinematographer and only the second time in the Academy's, we're only at the very start of progress. There are still too few role models that can make black women believe they can become a DP. This NFTS scholarship opportunity is just one step on a larger journey towards inclusion but we hope the support opens the door for more black women to fulfil their dream of working behind the camera."
It would be really great if you would be able to share this information with your network as I'm sure it will be of interest to a few! To apply, they must be a UK citizen and will need to apply via our website at nfts.co.uk/cinematography. If they are offered a place and are eligible, then they will be invited to apply for the scholarship.
The NFTS are hosting an in person General Open Day on Saturday 26 March at the School's main HQ in Beaconsfield. Prospective students are strongly encouraged to attend and will have the opportunity to meet with NFTS Cinematography heads of department, have any burning questions answered, tour the School's state of the art facilities and enjoy Q&A's and screenings. Places can be booked at: nfts.co.uk/nfts-general-open-day