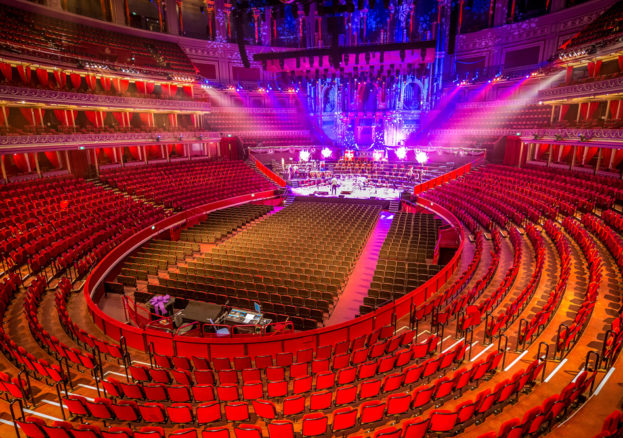 The Royal Albert Hall today announced it is giving 10 young people the chance to learn from experts and produce their own show at Britain's most iconic entertainment venue, as its six-month Young Producers scheme opens for applications.
Now in its third year, the 2019 programme opens for entry today and will provide those who are successful with a six-month crash course in programming, marketing and event management. The programme climaxes with two nights of events at the Royal Albert Hall in April 2020.
The scheme gives 18 to 25-year-olds the chance to curate their own mini-series of events, providing a pathway into the creative industries. The course is open to young people from all backgrounds and attracts a huge variety of applicants. Past applicants joined straight after finishing school, some were already in the world of work and others were university graduates.
Last year's Young Producers scheme saw a team of 10 individuals from a range of backgrounds gain on the job experience of all the core elements of event production. They worked together to produce their final event, a two-day festival entitled unDISTURBED, which was an "experiential dive into the human mind on music". The festival touched on themes of "stillness" and "resistance", with an array of activities and performances covering everything from meditation to beatboxing.
Young Producers' 2018 alumnae Yvonne Shelling says: "The Young Producers scheme gave me an unrivalled opportunity to learn from experts about the intricacies of what goes on behind the scenes to create a bold cultural event. Our final show included many acts that you wouldn't traditionally associate with a renowned establishment like the Royal Albert Hall."
Shelling continues: "It really goes to show what incredible things can happen when iconic venues give young creatives a chance to learn and show what they can create. I'm now developing a radio show with Gilles Peterson's Worldwide FM."
Following its launch in 2017, past graduates of the programme have gone on to successful careers in the industry, including Zoe Lakota, who now works at the Royal Albert Hall as a freelance Event Coordinator.
Zoe Lakota says: "The Young Producers scheme was an incredible opportunity, I learnt so much and the skills I acquired through the programme have been invaluable in landing me a job at the Royal Albert Hall. We were all given the chance to experience several different roles during the scheme so we gained a range of skills and had the chance to discover what we were best suited to. Seeing the behind-the-scenes workings of an iconic venue like the Hall allowed me to understand each element that goes into putting on a show."
Lucy Noble, Artistic Director at the Royal Albert Hall, said: "We know that careers in event production and management are highly sought-after by young people. There is no better preparation for a career in this industry than first-hand experience and the Young Producers scheme allows applicants to do just that.
"Those who gain a place on the six-month course will have the opportunity to learn valuable skills from experienced professionals at the Hall, covering everything from artist liaison and programming to budget management and marketing."
No previous experience is needed to apply for the programme, but a passion for the arts and an interest in pursuing a career in the creative industries is essential. While degree holders may apply, that isn't a pre-requisite. Those taking part must, though, be able to commit to the programme schedule of fortnightly meetings from 1-4pm between late September 2019 and early April 2020.
The Young Producers scheme is part of the Hall's Education & Outreach programme, which includes everything from music therapy to free instrument tuition and workshops with the likes of Chvrches, Sigma and Jake Bugg.
For more information go to www.royalalberthall.com.