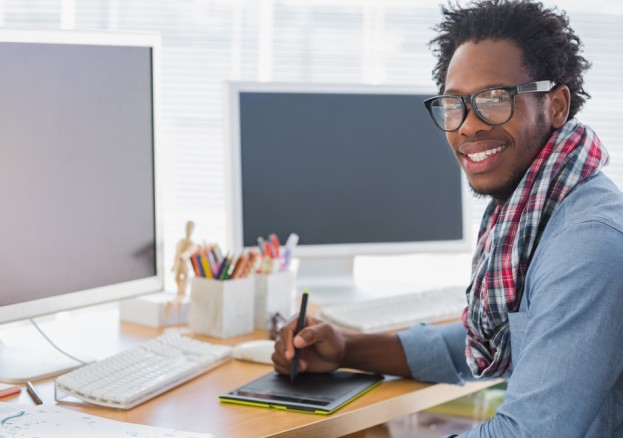 There is a common perception that it is almost impossible to make a successful career in the film industry. It is true that it is a competitive industry and that you have to have real passion and dedication to succeed but the same could be said of many other sectors. The UK film industry is no longer the 'closed' industry it once was with increasing amounts of opportunity for young filmmakers to catch their break.
So if you are passionate about film and everything involved with filmmaking, how do you go about turning this into a successful career?
The first question is whether to start working straight after leaving school or to continue your education to university level. Some people may say that the best way to gain experience is to start from the bottom up, making the tea and getting odd days of work experience here and there. However, increasingly studying film can not only provide you with the skills and experience needed to make your own films, it also helps you develop transferable skills that will prepare you for life in the industry.
If you decide that you do want to go on to further study, the most important thing to consider is what you want to get out of your study as this will affect the types of course you apply to. Not all film courses are the same, in fact there is quite a wide variety on offer throughout the UK, and you have to think about what. you – as an individual – want to achieve. The more academic based courses are great if you have a passion for film but don't see yourself having a career as a filmmaker and instead are looking for a degree that will give you transferable skills.
However, if you want to be involved in film production in some way for your career you need to look for courses that are more geared towards this. Things to look for are how the course helps you to develop practical skills, what opportunities there are for gaining real-world experience and whether the tutors/lecturers have experience of working in the industry. Because of the variety of types of film courses available it is extremely important that you delve into the specifics and have a good idea of what you will be doing over the course of your degree.
For students who want a more practical, vocational course questions that you may want to put to admissions tutors are around availability and access of technology like cameras and editing suites. The prospectus may say that students have access to industry level cameras but how many are there? Is this number enough for the cohort? How easy is it to access the cameras both for work on assignments and extra-curricular projects? Is the technology up to date?
Once you have decided which type of course you are looking for, don't feel pressured into signing up for a course that isn't exactly what you were looking for. For example, if you are passionate about having a career working on film productions, opting for a more theoretical film degree may not develop the practical skills that you need to get a strong start in the industry.
If you find you didn't get a place on your chosen courses, and Clearing isn't offering exactly what you are looking for don't be afraid to take a year to reapply. You can then use this year to enhance your skills and experience, provided that you have met the minimum academic requirement. If you find yourself in this situation, don't be afraid to ask admissions tutors what they are looking for in their applicants. At Met Film School we want to see that our students have what it takes to make it in the film industry as we are very much focused on the practical side of filmmaking. We assess this by seeing how engaged our applicants are with film, how passionate are they about the subject and about working in the industry. This passion could be shown by getting internships in relevant organisations but it could also be shown just by getting out and making your own short films with your friends or creating a storyboard.
Getting a place at university is just the start, but during your studies you will have the chance to really take control of your destiny if you take advantage of all the opportunities available to you. You do need tenacity and dedication to make it in the industry as there are very few large companies to work for, a lot of people working in the industry are freelancers, working for small businesses or starting up their own enterprises. It is up to you to go out and get involved with as many things as possible.
Here are some tips for enhancing your career prospects whilst you are at university:
1. Don't pigeonhole yourself too early in one particular role.
On a typical film set there are anywhere between 30-100 people in a variety of roles from producer to cinematographer and director to script supervisor. Studying film at university will give you the opportunity to try your hand at a range of different roles, try and get as wide a range of experience as possible. This will both help you to identify what you really want to do in your career but it will also help give you a better understanding of how all the roles work together. After all filmmaking is a collaborative team effort.
2. Try and build up a list of contacts while you are still studying to help you get a foot in the door when you graduate.
This could be through attending guest lectures and asking questions, attending industry events or volunteering to work on real-world productions in your spare time. Try and show your work to as many people as possible and don't be put off by rejections, it only takes one acceptance to kick-start your career.
3. Make films!
You only improve through practice so take every opportunity possible to develop your skills. Getting feedback is vitally important, you need to accept that in this industry your artistic choices are always going to be reviewed and judged so get used to this early and take on board feedback to take into your future projects.
Ultimately if you are really passionate about becoming a filmmaker don't stay safe. Push yourself artistically to develop your skills and push yourself to make those connections with industry players. The UK film industry is one with a lot of potential for young people just starting their career. Studying film at university can give you the skills and experience to get that foot in the door.
Jonny Persey
Chief Executive ,Met Film School
Met Film School is an independent film school based at Ealing Studios in London