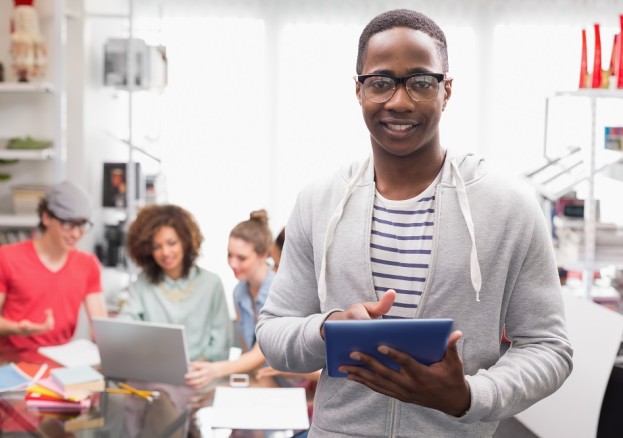 There are lots to consider – from course modules to accommodation, however, when you're studying a creative subject, there are a few more areas to ponder. Here's my take on the most important bits to consider at open days if you want to study something creative.
1) Don't settle for your typical facilities
Facilities are obviously an important aspect to any university. You will spend a lot of time in the library, so see what the availability is as well as its resources. This is particularly important for a creative degree as its vital to have a wide range of resources to nurture and expand your ideas. Think further than only books for academic support, as a good university library should have DVDs, magazines, journals, newspapers, comics, photographic books and archives, even computer games.
But facilities are extremely important when studying most creative subjects. When I was looking at universities, I was aware that I wanted to do a lot of work in darkrooms, so I looked for places that had both colour and black and white darkrooms.
2) Suss out the specialist equipment and studio space
Equipment hire facility tends to be vital to a lot of creative courses – not just to photography degrees. The majority of students at my university have used the equipment hire at one point or another. A well-stocked equipment store proves that a university is serious about investing in their students and adds more value for money to your degree.
Specialist equipment tends to take up a lot of space as well, so look at the study area for your course. When you study a creative subject, you spend more time in studios, sound booths, recording suites, workshops, darkrooms, computer suits, print spaces, hot shops and forges than lecture theatres, so make sure you really investigate how much space the department has. I found that when I went to open days, the larger universities that offered more subjects didn't necessarily have the space or facilities that specialist universities did; so even though UCA was the second smallest I looked at, there were more facilities I could benefit from than a larger university.
3) Check out the unique atmosphere
Going to a specialist arts university means that there is a great creative community atmosphere. Doing a creative degree is such an interactive experience because art is subjective and needs conversation and opinion to thrive. Being amongst an entire network of creative thinkers can improve your work without you even realising it.
Bear this in mind when you're at open days – what are the people who are already studying there like? The best way to find this out is of course by talking to the students and at every open day there should be an abundance of opportunities for you to do so; whether it's talking to student ambassadors, people working in areas of the course you're interested in, or even the campus officer (an elected graduate who works in the students union that represents the student body). The campus officer will definitely be able to tell you about the university's community and also elements like clubs and societies.
If you want to study a creative degree, dig a little deeper when attending the open days. The facilities, equipment, space and campus life could be make or break for you as an artist, designer or maker, so take your time and pick somewhere that will give you the freedom to explore any ideas you have in a space that inspires you.