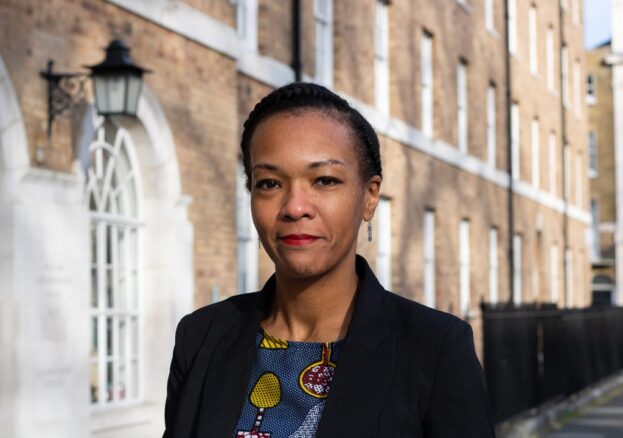 Frontline is a charity with a mission to make social work better for children, helping keep them safe from harm and giving them a chance to fulfil their potential. Almost 700,000 children and their families are supported by social workers in England each year. These children often live in the most challenging circumstances that can significantly impact their life chances.
Becoming a social worker through the Frontline programme offers a rewarding learning experience and a career where you'll put children first, protect them from harm and work in collaboration with families to change the course of their lives. This is work that makes a difference. This is social work.
Black History Month got some time with Lisa Zaranyika to talk about the Frontline programme and the importance of increasing the number of applicants from more diverse backgrounds.
Can you tell us about Frontline and the work you do?
The Head of Diversity and Inclusion role is a new role to Frontline. Following the murder of George Floyd in 2020 and as a charity committed to creating social change for children and their families Frontline realised we needed to do more to combat racism within our organisation and on our programmes. We've made a lot of progress since then including creating and successfully implementing our racial diversity and inclusion plan, have been clear about our commitment to anti-racism seeking to embed it in our recruitment processes internally and externally and include it in our curriculum across all of our programmes. We've made a lot of progress but also know that there is still a lot more to do – we want to put the same energy into diversity and inclusion more widely, considering intersectionality. My role is to create a long-term D&I strategy that is coherent in all areas of our work, developing excellent relationships across the whole organisation and using leadership and influencing skills to bring about lasting change.
I am currently working with the teams focused on workforce and programme recruitment teams and am also working closely with the Senior Leadership Team to explore and understand how we can better embed our D&I strategy across the charity.
How important is diversity and inclusion in recruitment at Frontline?
Diversity and inclusion is one of the core themes at the heart of our mission at Frontline and is therefore also at the heart of our approach to recruitment. As a social work charity committed to creating social change for children and their families, diversity and inclusion are inherent parts of that objective. To better understand and address the discrimination, inequity and marginalisation experienced by the children our participants and leaders protect and support, we need to have that diversity reflected in our staff group and across everyone on our programmes.
We recognize that both diversity and inclusion is key, so whilst we strive to increase representation we are also determined to engage in dialogue from a position of humility and mutual respect striving towards an inclusive and enabling culture that amplifies minoritised voices.
What children in England do Frontline social workers tend to help the most?
One in four of all children will require a social worker before they reach the age of 16. These children frequently live in the toughest circumstances, often because their family is struggling with multiple challenges like mental ill-health, domestic abuse, poverty and other external pressures. This means that these children don't always get the love, care, and protection they deserve, and might experience abuse, neglect, and trauma. This not only harms them in the here and now but, without help, can do long-term damage too.
There is a clear need for child protection social workers who have the skills, confidence, and time available to do great work, to help keep children safe from harm, and to give them the best chance to fulfil their potential.
Can you please tell us more about the Frontline programme?
By completing our Frontline programme you'll become a social worker who helps create positive, sustainable change for children and families.
The Frontline programme offers two years of intensive, paid training and a fully-funded Master's degree with Lancaster University to develop the skills you'll need for the role. You'll qualify as a social worker employed in your local authority and become an agent of change, improving people's lives and the social work profession through excellent practice, leadership, and innovation.
You'll help protect children living in the toughest circumstances and families struggling with a range of pressures, giving them the support and commitment they deserve and helping them to make positive change in their lives.
What are you looking for in an ideal candidate?
We are looking for individuals committed to making a difference for disadvantaged children and families. Like social work itself, the Frontline programme is both intellectually and emotionally challenging.
During the selection process, we will be looking for evidence of several key competencies. These include motivation, resilience, self-awareness, empathy, effective communication, analysis and adaptability, and leadership.
You can find out more about the competencies on our website.
Can candidates be from across the country?
Yes, we partner with a range of local authorities across England. We pride ourselves in placing Frontline participants where the need is greatest and we prioritise the needs of disadvantaged young people and families we work with. As a result, we need our participants to be flexible with the locations they are able to work in. All of our locations offer the same excellent training, development and support. By being flexible in your placement, you will be going a long way to improving the outcomes for children and families in the areas that need Frontline participants the most.
Do you recruit all year round?
No, applications for the programme open in September and places fill up quickly due to the high volume of applications. While there are many places nationally, we will start to close applications for specific locations as they fill up. We recommend you apply as soon as possible to ensure your best chance of securing a place on the programme.