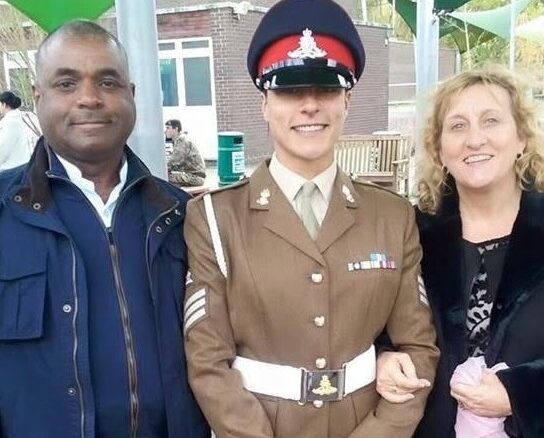 The Royal British Legion (RBL) is the UK's largest charity dedicated to supporting the needs of the Armed Forces community – past and present, and their families. The RBL champions Remembrance and is known for the annual Poppy Appeal and its emblem: the red poppy. We believe that Remembrance is for all and that it can bring communities together to remember the service and sacrifice of the Armed Forces community, and in turn honour those who serve to defend the UK's democratic freedoms and way of life.
Staff Sergeant Louise Banton
From Dreams to Legacy – Louise's 22-Year Journey in the Royal Artillery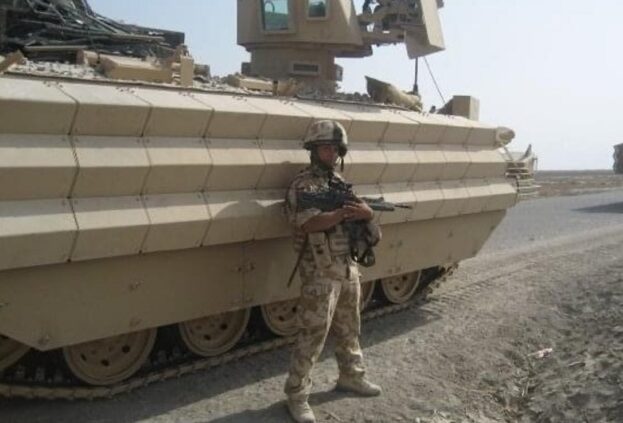 Staff Sergeant Louise Banton's path from a student to Army veteran is marked by moments of sheer determination and milestones of change. Her Army aspiration was sparked at 16 during a school careers event, where recruiters piqued her interest and made joining the military her goal.
She wanted to join as soon as she left school, but her mum encouraged her to complete two years of college before she made up her mind.
"So, I did 2 years, nothing came out of it. I joined the Army… At least I had two years of a little bit more growing up before I joined. I'm kind of grateful for that."
In 2000, at 19, she joined the Royal Artillery, influenced by her grandfather's Second World War service in the same regiment. "My grandad on my Mum's side was in the Royal Artillery. He fought in the Second World War in the Battle of Monte Cassino, (and) he met my grandma, who's Italian."
On her mum's side, her great-great grandfather had served in the Italian Army. "My mum said he never really spoke about his experiences. He went through a pretty tough time out there, and he never spoke about it."
Louise's heritage has mixed white and black roots, her paternal grandparents were part of the Windrush generation, moving from Jamaica to the UK. Her own journey is marked by both personal and societal transformations.
She recalls when it was time to leave for basic training, "…it is scary. I remember, my whole family came to the train station… everyone cried, including me."
"…nothing really can prepare you for (training), honestly. It is such a challenge. It is tough. People, they come and go throughout it, throughout the weeks that you are there. I managed to stay and pass the first 16 weeks."
Louise won awards for Best Shot and Best Physical Training; her first achievements in the Army. It was an immensely proud day for her when her parents came to her passing out parade.
For Louise, her three tours of Iraq and three of Afghanistan stand out as defining chapters of her service even though she was deployed to many other countries.
She served as a UAV (Unmanned Aerial Vehicles) operator and equipment manager, attached to infantry units on the ground, all the while enduring challenging conditions, both physical and emotional.
UAVs are aircraft that may be controlled remotely, and are equipped with a variety of devices such as sensors, electronic receivers and transmitters.
"I operated and worked with four different UAV or drone systems. The first one being Phoenix, which is now no longer in use and hasn't been, for a while now… my second drone system was the DH3… the third one was Hermes 450, which we took to Iraq and Afghanistan. And the fourth one is the one that's currently in service, which is the Watchkeeper and it's the UK's very own or very first, developed UAV drone system."
She operated these mainly for surveillance purposes.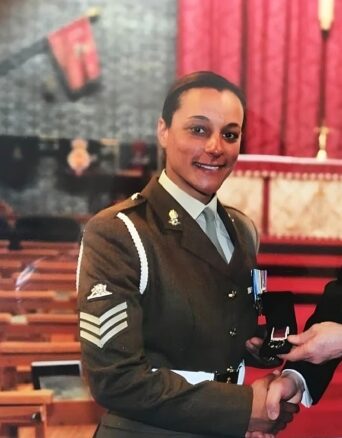 The constant threat of shelling in Iraq as the camps were being built, and the tension of conflict became part of her daily reality. "You had to be really careful… There was a lot of stuff that happened on all the tours and thankfully I came away pretty unscathed."
Louise recalled times when she would be contacting family whilst on tour. "There was a number of times when I'd be on the phone and the alarm would sound… and then the phone would… just cut out and then they wouldn't be able to talk to me. Which is bad. I'd be on the floor because that was what you had to do when the alarm went off, hit the deck straight away."
With limited resources and downtime, Louise and her comrades found ways to bond over shared activities. They would gather for movie nights on the DVD player, enjoy makeshift gym facilities, and engage in friendly competitions.
Louise reflects on the value of these relationships: "you'll always have those bonds that you hold closest to you because no one will ever understand or know what that was like, but these people that you were with".
Her service wasn't just about her personal achievements. As a black woman in the British Army, she navigated challenges, offering a perspective that contributed to the evolving landscape of diversity.
She came out to her family shortly before enlisting, her military service coincided with major changes in Armed Forces policy, including the lifting of the ban on homosexuality and the eventual opening of frontline roles to women. These changes allowed her to forge her own path in a traditionally male-dominated field.
"The artillery was one of the toughest corps to get into as a female."
After being approached by the Regimental Sergeant Major, Louise helped establish various networks such as the Multi-cultural and LGBTQ+ network within her regiment. Through these networks, her input, and the input of other members, helped instigate shifts in policy and practice.
The networks allowed Louise to help facilitate the first ever Network Briefing Conference in the Royal Artillery. Regiments who wanted to learn about setting up and growing similar networks of their own attended.
"Seeing the change from back then to now, especially with all these networks, that's why I got involved with the networks, seeing the changes has been amazing."
Her pioneering work was recognised when she was named in HM Queen Elizabeth's final honours list when awarded the Meritorious Service Medal (MSM) in 2022. Louise was unaware that she was to be awarded the MSM: "I was coming towards the end of my career… I had a matter of months left when I received this award."
Late in her Army career, becoming an instructor brought Louise full circle, where she gave support to young recruits akin to what she gained at 19. "It was one of the best things that I've done throughout my career. Definitely. Just young people, seeing and training young people and give them some wisdom…"
She also championed women's football in the military, playing at the highest level, captaining the Royal Artillery team for over a decade and coaching the Army Women's development team.
After 22 years of service in the British Army, Louise's next step is transferring to the Australian Armed Forces towards the end of the year. One of her personal tasks is to look at the networks available in the Australian Army and contribute her knowledge and experience in this field.
For Louise, Black History Month (BHM) is an opportunity for people to learn about different cultures, backgrounds and to show their support. In 2020, Louise contributed to BHM by taking over the official British Army Instagram account for 24 hours, answering comments and questions from the public in response to a feature she had written.
Louise's journey through the Army helped her forge lasting bonds, embrace challenges, and contribute to progress. Her advice to her younger self echoes a sentiment often found among veterans: to persevere, always remain true to oneself and "it's okay to fail. Everybody fails in life. Just always move on to the next thing and learn from it. Learn from mistakes".
Corporal Valerie Wood
Flying Ambition – Valerie's Voyage in the Women's Royal Air Force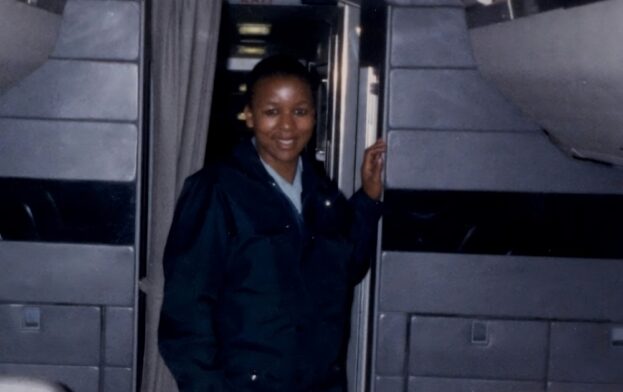 Valerie Wood's family history is intertwined with military service around the world, her father's cousin having served in the Jamaican Army and two of her second cousins in the British Army. Valerie's brother was a teacher in Jamaica before moving to America and serving in the United States Air Force for 27 years.
Valerie's parents moved to the UK from Jamaica in 1956, and four years later Valerie was born. She has been fascinated by aircraft since childhood, loving her trips to Manchester Airport with her mother, and remembers the "exhilaration of the aircraft turning around and… the engine('s) rolling". So, it was no surprise when at the age of 18 she joined the Women's Royal Air Force (WRAF).
"When I joined, I knew that I was going to have to start on the ground, with the catering squadron, become a ground stewardess before I became an air stewardess".
She went to RAF Hereford for initial training including drill, ground defence, First Aid and technical knowledge. Having excelled as a prefect and Head Girl at school, her leadership skills stood out, and Valerie was made a Recruit Leader, responsible for 15 young recruits.
Upon passing out, Valerie studied at the prestigious Hereford Catering Squadron and then her first post was at High Wycombe Strike Command where she gained huge experience in catering and VIP stewarding. She then applied for an overseas posting and was accepted to join RAF Bruggen in Germany.
She returned to the UK in 1984 to achieve her ambition of training as an air stewardess. The intensive training included being deprived of oxygen in a decompression chamber: "I remember being taken off the oxygen. After a minute and a half I had to write my three times table – I found I was scribbling like a four-year-old. And I had to do that to pass the test".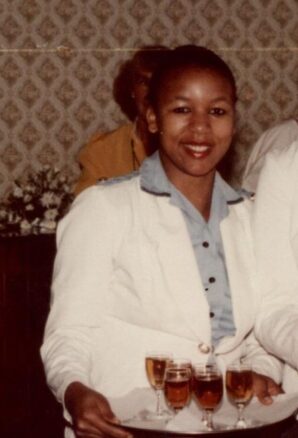 She also undertook a sea survival course, spending hours in a life raft in rough seas before being winched to safety by helicopter.
In a varied career she looked after high-ranking VIPs and members of the Royal Family as well as operational tours on VC10 and Tristar 500 aircraft that took her around the globe, from Hawaii to taking soldiers to a training mission in Brunei. She was qualified to work in a variety of flight operations, from carrying dangerous cargo to passengers with medical needs, such as when she assisted on a flight carrying a sick, premature baby in an incubator from the Falkland Islands to RAF Brize Norton in Oxfordshire.
At the age of 27 Valerie was ready for the next stage in her flying career. She left the WRAF to serve with chartered and commercial airlines, including British Airways from 1999 to 2010. "For me the military and BA, I feel I was spoiled, because the standards were very high. And I attained and maintained those standards throughout my career."
Now retired, Valerie volunteers each week with the RAF Association (making calls to beneficiaries), local African Caribbean veterans' groups and at the Imperial War Museum (North) where she talks to visitors about the displays.
"It's my time to give back and I always knew I would, I'm at that stage in my life."
Valerie reflects: "When I joined the Air Force, I was already a disciplined person. A person of principle. So, what it did for me, it put me in good stead: the Air Force didn't shape me… it enhanced me."