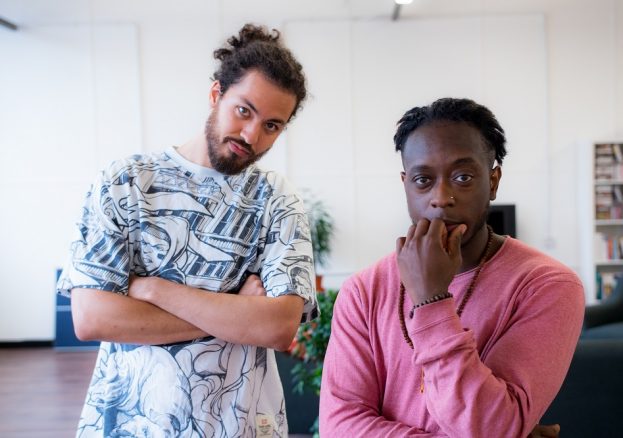 They are also responsible for a popular web series called Unapologetically White. Black History Month speaks with the 25-year-old creatives on how their friendship blossomed into business and being a part of a filmmakers development programme called BACK IN.
How did you meet?
Steffan: We both direct, but I wanted to try being on the other side of the camera, so I went to an acting audition and it was Stephan's production and I got the role.
So, you have only known each other for a year and a half. Why open a company together?
Steffan: Our company Catalyst studios was originally Dominic's idea. I had the same idea, so why not collaborate. He then created Catalyst, the logos, and we just had meetings, shared views on where we want to go and goals we both want to achieve in the next couple of years and decided to put all our resources into one place and just go for it. So, we've been living together now for a year and a half and work from home. Our studio is also based in the space there. So that's how we created catalyst studios and brought it to life, together.
That's a big commitment, for two people that have only known each other for a short space of time…
Dominic: When we sat down Steffan had a 5-point structure and everything, and he was saying everything in my mind. Everything he saw, I saw, and from that alone it was enough.
Within three months of working together extensively, like every day we just said let's put our resources in, let's get some part time jobs and try go through, now we have made the business our full time job. And we've ended up being best friends as well.
That's what I was hoping you were going to say…
Dominic: It's probably been the most rewarding part of the experience, as both of us have always been misfits, and we come from very different walks of life but then through this shared passion we have become the best of friends.
Tell me about your web series Unapologetically White?
Dominic: So that was during the time of a lot of shootings in America and it's nothing new, it was us expressing our feelings. I've lived in America before, and being mixed race, I've experienced through my life, looking at both black and white and being stuck in the middle of that and having people voice for me. I didn't have the voice I felt like I wanted on race.
I've experienced the British way of racism and the American racial construct as well, and so for me personally it was a way to justify why we always put the hashtag unapologetically black, why we feel the need for that. And to translate it to a wider audience and that's why we got the title unapologetically white. To speak to both black and white people. To explain why we need to say black power and why it's different to saying white power and showcasing what it means to us. When we don't have access to our history in the same way that Europeans do. If the average black person doesn't find their history until 16 how does that feel when they open the books and watch the movies and then also all the other social implications as far as beauty.
We tried to narrow it down to different topics: beauty, male representation, female representation, mix-race as well as finding out your history.
Steffan: From my perspective, I was very narrow-minded growing up being a black male, I used to look at the mixed-race people and think, you lot have got it better because obviously in my lifetime it's been deemed as the lighter you are the more work you get or the more you're accepted in society. So, I had to personally unpack those stories and understand it from everybody else's perspective other than my own because my vision was quite blurred. With Dominic I began to think wow, you actually don't have it easy because you're stuck in the middle where you have to translate for both black and white. It was really deep for me because I learned about a lot of historic events that I didn't know about.
What happened with it?
Steffan: We put it out, as a cinematic series on YouTube, we want to take it further to education, schools and universities. We really believe it's important. The episodes are only 3-5 minutes each but they're so powerful. It's needed, especially in Britain because we like to sweep things under the carpet, as much as possible. We can't forget that those things happened, it needs to be spoken about.
Dominic: We were asked to speak for Black History month, for a council on the subject. Birmingham is the home to the first ever black studies course in university in the whole of Europe. So, we've been speaking with professors there, they've had a lot of interest in the project too. During the time that we made it, there was a massive sense of black unity, not just from the black community but in regards to the shootings that were going on in America. It was a great time during such chaos and we're just glad to be a part of educating people further.
So, tell me about your networking event Catalyst Connects?
Steffan: It's a platform for filmmakers, actors, musicians, composers etc, to connect, network and share. And this is why me and Dominic brought it to life because we felt like we needed something like that in Birmingham. There's not really anything like it. And we kept waiting around for this event to happen, and it wasn't so we thought why don't we put it on, why don't we be the innovators, and bring it to life. From the turnout we knew it was needed so we host it every three months and we have guest speakers that come down from London, we also have panels of rising stars within Birmingham and London as well. We also have a section we give to directors to trailer their short films or trailer their feature films that are going to go on to festivals or cinema release etc
What are the benefits of you guys being in Back In, outside of this you guys have a lot going on, so why did you want to be involved in a project like this?
Dominic: For Birmingham these type of programmes are really needed. We actually spoke to Daniel Alexander right before we found out about Back In because we wanted to have a regular meeting with independent filmmakers in Birmingham. During this programme we've already spoken to representatives from Creative England, and we found out that there hasn't been a Birmingham project ever. There are so many untold stories in Birmingham. We need more access to funding or just to be in the room with people that can put you in right direction to get something happening here. With Catalyst Connects we recognised that we are situated between Manchester and London and Manchester is really big on TV, and London is really big on film and TV and Birmingham has so many creative talents, whether it's music or anything, if we can set up something here we're a destination in between so there should be a lot of creativity circulating through, and it's just going to be good for everyone.
How is Back In helping you?
Steffan: Back In really helps us to meet the money people, people that you wouldn't necessarily meet at a normal networking event. You meet the industry professionals who are more behind the scenes and we're also picking up new filmmaking skills and techniques.
What's the film you're creating to showcase at the end of the programme?
Dominic: It's a reggae inspired film. It's exploring heritage within Birmingham and Jamaica.
What's the storyline?
Dominic: It's a coming of age story set in the 90s about a young girl who wants to follow her dreams. After being suppressed by her mum, she goes to Jamaica to uncover her past and to find her true authentic self through heritage, culture and music.
Are they giving you that much money for this you can film in Jamaica?
Steffan: (Laughs) This is a pilot. It's the first 25 minutes of the film, so it's shot in Birmingham. We have members of Steel Pulse, a reggae band from Handsworth that have been involved in the project, they'll be starring in it and helping with the production.
For more information on Catalyst Connects visit thecatalyststudios on Instagram @studioscatalyst on Twitter or their website www.catalyststudios.com. Their personal Instagram profiles are: steffanzachiyah and dniquo.