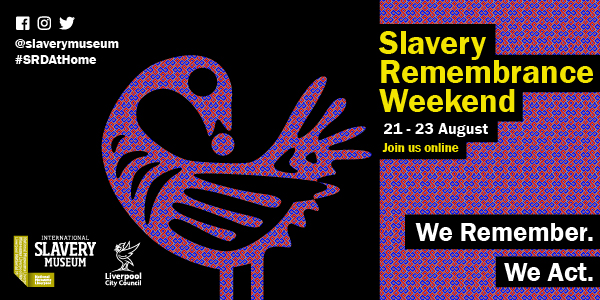 It was a crucial event in the fight to end the European transatlantic slave trade. The date has been designated by UNESCO as Slavery Remembrance Day, a reminder that enslaved Africans were the main agents of their own liberation.
Slavery Remembrance Day has been marked on 23 August in Liverpool since 1999. Our commemorations acknowledge a major period of trauma and injustice in world history, which is too often forgotten. The events enable us to remember and reflect upon the millions of lives that were stolen through enslavement. It also allows us to consider the many legacies and achievements of people of African heritage throughout the diaspora.
Slavery Remembrance Day 2020
To keep our visitors and staff safe during the ongoing pandemic of Covid19, we have decided to move Slavery Remembrance Day online, where we hope to bring our communities, friends, visitors and families together in a digital realm – from near and far. Our online activities, detailed below, include talks, discussions,creative family activities and a virtual tour of Liverpool's connections to the transatlantic slave trade.
This year we will be marking our 21st Slavery Remembrance Day, and with so much unrest and uncertainty currently in the world, never before has it been so important to come together to remember and reflect on the past, and work together for the future. This is a defining moment of change, and we are all a part of it. We hope you will join us.
"It was important for us to continue with this most important annual event and even though we might not be together in person, we are collectively together virtually. We will still remember the ancestors, their sacrifices, their resilience and their knowledge. We have excellent speakers this year, who will share their experiences and understanding of the subjects which are at the heart of Slavery Remembrance Day and what it means."

Dr Richard Benjamin, Head of the International Slavery Museum