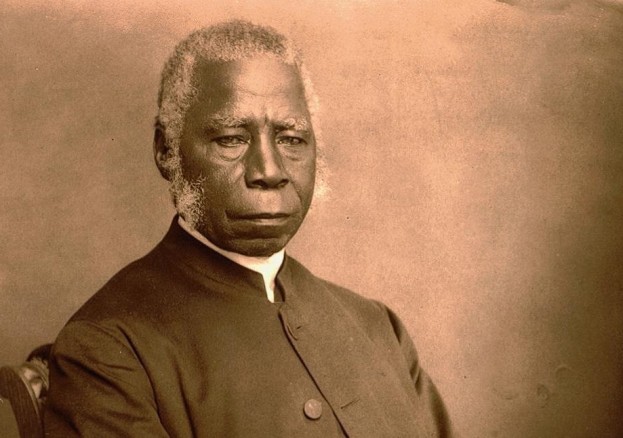 Since its formation in 1532 under the guide of King Henry VIII, the Anglican Church has been a prominent part of English society, having been involved and working closely with our government on various laws since the beginning as we are not a secularist society like France or America.
It may surprise you then that out of the 97 archbishops there have been, the first black archbishop in the Anglican Church was ordained in 2005 with the last Archbishop of York, John Sentamu.
But the Anglican church has not always been so closed minded, as the first ever ordained Bishop and the last black bishop to get close to the illustrious position of Archbishop was Bishop Samuel Ajayi Crowther in 1864.
Born in today's Oyo State, Nigeria. Ajayi was a Yoruba man who also identified with the Creole ethic group from Sierra Leone. Yet Nigeria was a ripe picking spot for slavers in the early 1800's and at the age of 12, Ajayi and his family along with his village. Once captured by the Muslim Fulani slave raiders, he was soon sold off to Portuguese slave traders later in the year 1821.
However, before Ajayi would become another statistic, the British Royal Navy boarded the slave ship and was taken to Freetown, Serria Leone where he was released.
His time in Sierra Leone lead Ajayi towards the Anglican church where he was cared for by missionaries and taught English, two things which helped him to convert to Christianity and during his rebirth by baptism he changed his name in homage to a vicar Samuel Crowther. It is speculated that his choice of name was to reflect and acknowledge the work of Samuel Crowther, a pioneer for the Church Mission Society (C.M.S)- the very same people who looked after him after his release as well as his work in England where he was the Vicar of Christ Church in Newgate, London.
A year after his baptism, Ajayi's interest in languages compelled him to move to England where he began to attend the school in St Mary's Church, Islington, London. In the following year of 1827, he returned to Freetown and became the first student of the new school 'Fourah Bay College', an Anglican missionary school where he studied Latin, Greek and Temne- the language used by the largest ethnic group (The Temne) in Serria Leone at the time. After his studies, Ajayi began teaching at the school.
Sometime between the years 1828 and 1841, Ajayi married a schoolmistress who was also rescued from the same Portuguese slave traders who were going to sell him. Their similarities didn't end there. Asano, Ajayi's wife was also brought to Serra Leone and was looked after by the Church mission which helped her to convert, changing her name to Susan. Now a married couple, his family grew with each of them having their own impact on African History.
One of his sons, Dandeson Coates Crowther became archdeacon of the Niger Delta. His son-in-law, Thomas Babington Macaulay was, at the time- a highly respected writer who not only supported interracial unions, but also sought to teach the English language in India. Sadly, however his marriage was later annulled by British law- meaning that in many of his biographical works, he is considered as having never been married. Their son and Ajayi's grandson, Herbert Macaulay however would later grow up to be one the first Nigerian nationalists and played important roles in ending British colonial rule in Nigeria.
Ajayi's work in Nigeria did not stop at being a teacher. Later becoming a close friend with Captain James Pinson Labulo Davies who was an influential politician, mariner, philanthropist and industrialist in the colonised Lagos, Crowther and Davies opened 'The Academy'. The Academy was one of many social initiates Crowther became involved in which focused on social interaction as well as being a centre of 'public enlightenment', a scheme devised under colonial rule to teach Nigerians in Lagos about British life.
In 1841, Crowther was selected to join a missionary expedition to Niger by James Fredrick Schon. The aim of the mission was to spread commerce from the colonised Nigeria into Niger as well as teach agricultural techniques, spread Christianity and help bring an end to the slave trade in the area.
The success of the mission was universally praised by the Anglican Church, where Schon wrote to the C.M.S commending Crowther's usefulness and ability and even recommending they prepare him for a more formal role in the church. Soon after the expedition was complete, Crowther was recalled to England where he was soon trained as a minister and ordained as Bishop of London.
By 1843, Crowther returned to Nigeria where he opened his own ministry alongside Henry Townsend in todays Ogun state, Nigeria and began translating the Bible into the Yoruba langauge. These were not his only projects however as he was also compiling the Yoruba dictionary.
In 1843, a grammar book which he started working on during the Niger expedition of 1841 was published which was soon followed by a Yoruba version of the Anglican book of Common Prayer. Having completed the dictionary, he also began work on compiling a vocabulary book of the Yoruba language which also featured a number of local proverbs which he eventually published in London, in 1852 which prompted him to begin coding other languages too in his free time.
Another expedition to Niger in 1854 and yet another in 1857 delayed Crowther yet he still published a primer for the Igbo language in 1857, a third for the Nube in 1860 and a full vocabulary language book of Nupe in 1864.
Later that year, Crowther was ordained the first African Bishop of the Anglican chuch and was concecrated on St Peters day 1864 by Charles Longley, the archbishop of Canterbury at Canterbury cathedral. By the end of the year, sometime between June and December, Crowther was given a Doctorate of Divinity by the university of Oxford.
Eventually completing the Yoruba bible in the mid 1880's. Samuel Ajayi Crowther had established himself as not only a prominent feature in East Africa, but also a respectable figure in both the Anglican church and the wider academic community with his work in linguistics before his death in 1891.
Source: Celebrating the Life and Legacies of Bishop Samuel Ajayi Crowther (the first African Anglican Bishop 1809 a 31st December 1891)