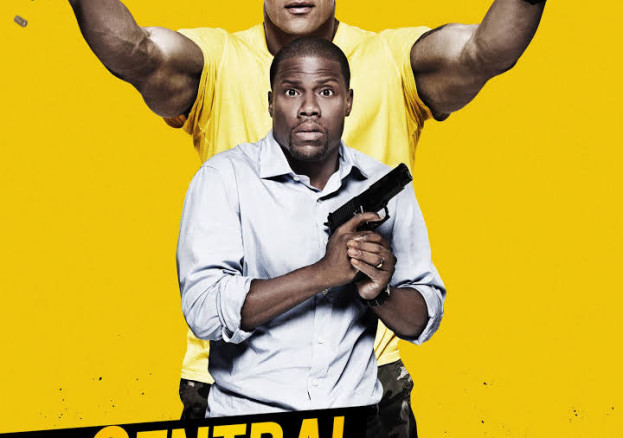 Going into 'Central Intelligence', you will need to have done two things; firstly watch at least one of Kevin Hart's stand-up specials, and come to accept that the 'buddy' type action comedy is a genre that was never designed to wow you as an audience member at the big screen.
Taking place in both 1996 and 2016, Central Intelligence relies on the 'opposites attract' method for comedy delivery, not only in the chemistry between Kevin Hart and Dwayne Johnson, but between characters and their 20year on screen lifespans, as a rising young star becomes an average Joe, and a bullied schoolchild becomes an ultra-buff Secret Agent.
As main characters go, Hart and Johnson do a fair job and when sharing the screen, they feel like main characters. However, take one away or prioritise one over the other and you feel like something, or more accurately, someone is missing. The best example of this is during two of the standoffs towards the end of the film in which Hart is incapacitated. In both cases, Harts character and perspective was missing, and during scenes between Hart and his wife, played by Danielle Nicolet, you almost miss Johnson causing chaos.
Addressing the claims that this film lacks 'action' is misleading. A more accurate critique would be to say that this film lacks 'big action'. Scenes such as the Drivers Ed hijacking in 22 Jump Street or the explosions you may find in films such as Will Smith and Martin Lawrence's' Bad Boys will not be found in Central Intelligence.
Other 'big action' tropes are missing in Central Intelligence, but are well welcomed. One example of this is the lack of bodies that are left in the wake of the protagonists at the end of each scene and the over the top, overtly violent catchphrases are replaced with hilarious quips and comments which reflect characters out of their depth, not battled hardened war heroes.
Predictability is also a word I would use to describe Central intelligence, but only to a handful of scenes. Despite this, the build up to each big reveal is well handled and I felt rewarded when I guessed closely, yet incorrectly to the next plot point reveal.
Yet unpredictability is also a word I would use to describe Central Intelligence. Throughout the film, the concept of trust is constantly questioned, right up until the main villain is revealed and every questionable character and their actions are pardoned.
Strangely, the predictability and unpredictability factors are entirely down to the characters themselves. Hart's level-headed, practically minded Accountant who's out of his depth creates scenes which should pan out like any other panic stricken main character, yet the dim-witted, deeply troubled wrecking ball that is Johnson changes scenes as they unfold frame by frame.
Central Intelligence continues to defy the typical formula that not only makes, but breaks the Buddy Action Comedy genre.
In comparison to other films in the genre which feature an all-star, joke filled trailer, CI manages to make the 1minute trailer transfer into a 90minute film with relative comfort and without giving away any major plot points, saving you a case of deja vu.
Overall, Central Intelligence is a film that ranks no differently to any other Buddy Action Comedy, yet coupled with prior knowledge of Hart's comedic style and a panache for African-American comics, Central Intelligence promises to be a fun and well remembered comedy.