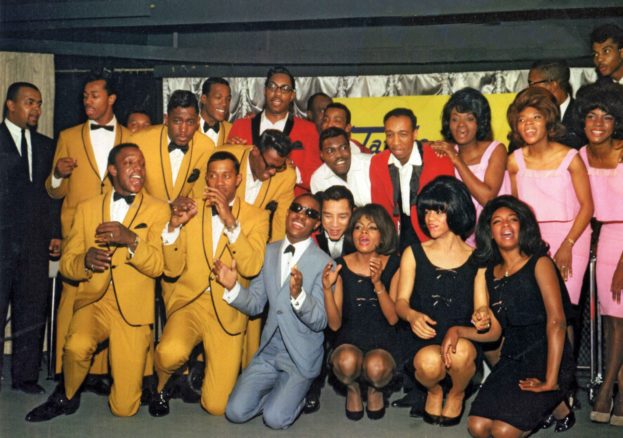 As early as 1958 British music buyers bestowed upon songwriter Berry Gordy Jr. the founder of Motown, his first Top 10 hit Jackie Wilson's "Reet Petite" and since that time he has had a special place in his heart for Britain and for many good reasons too.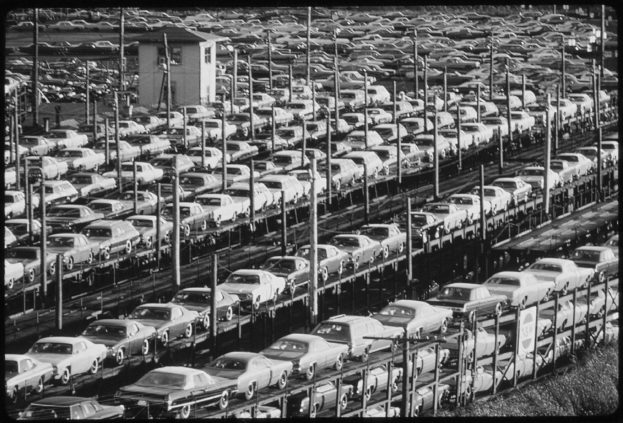 This pioneering son of Detroit has many reasons to feel that way  as Motown celebrates its 60th anniversary this year.   The song-filled extravaganza built around Gordy's life and times, Motown The Musical, is still running in London's West End, whilst audiences elsewhere in the UK flock to its roadshow version. Moreover, when Hitsville: The Making of Motown – a brand new, Gordy-approved film documentary – debuts later this year, it is worth noting that a British company was chosen to make it.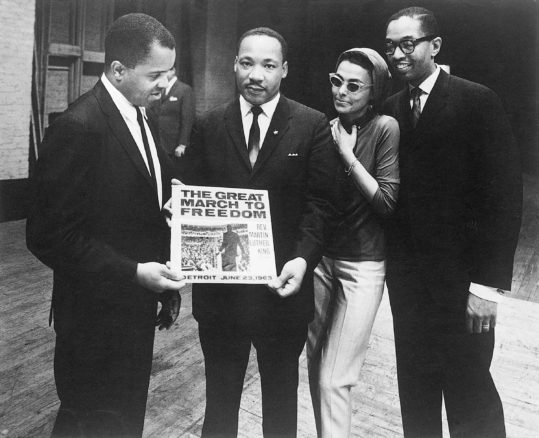 Ask any of Motown's stars about their experiences abroad and it's certain that they'll fondly remember days and nights spent in London, Manchester, Glasgow, or other cities in between.  Adam recalls,  ' For one, Duke Fakir of the Four Tops won't ever forget the first time the group played in concert in Britain, in November 1966. The audience went wild from the moment the Tops hit the stage in London that night – and this was a crowd which included at least one member apiece of the Beatles and the Rolling Stones.' Fakir still crosses the Atlantic and just last year, the Tops, with the Temptations, played major U.K. venues.
It was for another London concert crowd in 1980 that Stevie Wonder, Marvin Gaye and Diana Ross shared the stage and performed together – a union almost unheard of outside a network television studio. Gaye even lived in London for a time, working on his In Our Lifetime? album, while Smokey Robinson owes the biggest hit of his career – the Miracles' only record to reach the peak of the Billboard Hot 100 – to a young fan working for Motown's British licensee, EMI Records. In 1970, secretary Sharon Davis suggested the release of a three-year-old album track by the Miracles as a single. That recording, "The Tears Of A Clown," topped the U.K. charts, encouraging Motown in America to follow suit – and secure the Miracles' chart-topper there.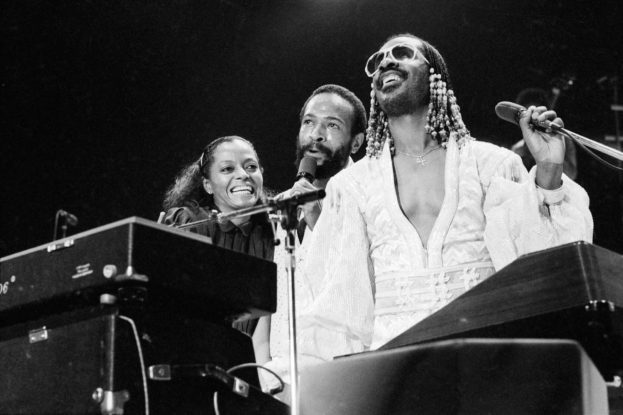 The world's enduring love of such music is nothing new. American jazz musicians and bands were popular throughout Europe long before Berry Gordy dreamed of forming his own record company.  His heroine, Billie Holiday, played shows during the early 1950s in Sweden, Germany, Holland, France and Switzerland. And when in 1953, a young Englishman living in a small town south of London first heard Ruth Brown's "Mama (He Treats Your Daughter Mean)," it changed his life – and, later, he came to influence Gordy.
This particular Briton was Dave Godin, who became deeply smitten with American rhythm & blues, and in 1963 formed the Mary Wells Fan Club and Tamla Motown Appreciation Society. That he was more sophisticated than the average pop music fan soon became evident. "The seeds of the present-day new style R&B have, like the yearning for quality and justice, been several years germinating," Godin noted in an early edition of Mary Wells & Motown News, his club's newsletter. "The Detroit school is vibrantly post-war and recognises no one source as inspiration, but rather draws on the whole wide canvas of American negro culture." He affiliated the fan club to the anti-apartheid movement and to America's Congress of Racial Equality.
When Godin first penned such prose, few Brits knew of Mary Wells or had the slightest idea what "Motown" was. But years before, thousands of his fellow countrymen and women had bought Jackie Wilson's "Reet Petite (The Finest Girl You Ever Want To Meet)" in sufficient quantity to propel it into the Top 10 in January 1958.
That was Berry Gordy's first significant success as a songwriter. The record had been released in the U.S. six months before, but netted only a modest chart result. In truth, Gordy would not have pocketed much from that UK achievement, but likely did better financially in 1960 when another of his songs, "You Got What It Takes" by Marv Johnson, also climbed high on the British best-sellers.
Meanwhile, Barrett Strong's Motown recording of still another Gordy song, "Money (That's What I Want)," caught the attention of a young quartet of musicians in Liverpool. Before anyone outside that city knew who they were, the Beatles had added "Money" to their live show. "We all had the Miracles, we all had Barrett Strong and people like that," Ringo Starr said of their record collections. "I suppose that helped us as musicians, and as a group." When their take on "Money" (and two other Motown songs) was included in the Beatles' second album released in America, the music publishing royalties gave Motown a cash influx of extraordinary proportions.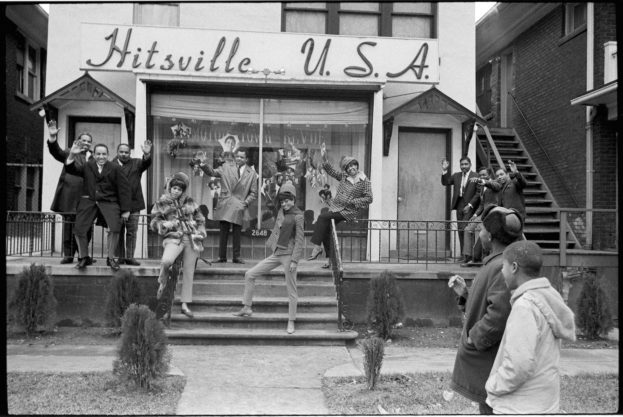 As their popularity exploded worldwide, the Beatles cited such Motown influences as the Miracles, Mary Wells and Marvin Gaye. "We continue to receive good fan mail from England," wrote Motown attorney George Schiffer in an interoffice memo of the time, "and the Beatles, our best publicists, mention our records and artists wherever they go."
By this point, five-year-old Motown Records had established itself as an exciting new player in the American music business, with a succession of pop hits by the Miracles, the Marvelettes, Mary Wells, the Contours, Marvin Gaye and the Supremes. Berry Gordy had visited London in early 1963 to scout prospects for his company's output, and the following year, he became aware of Dave Godin's Motown fan club. He invited Godin to visit Detroit, and then put him on a retainer as  eyes and ears in the UK.
In 1964, Motown scored its first major hits in Britain – Gordy's previous U.K. best-sellers had been licensed to other record companies – and widened its horizons. "Great Britain has a deep place in my heart," Gordy once told me, "because 'Baby Love' [by the Supremes] went to No. 1. From there, it went on [to succeed] not only in Europe, but also Australia, New Zealand, Japan. It was incredible."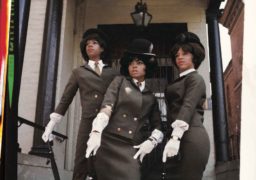 When the Supremes travelled to London in October 1964 to promote "Baby Love," the group's Mary Wilson had an equally incredible experience. "Coming from the United States during that era was quite an eye-opener, to see how well we were received," she said. At home, the 1964 Civil Rights Act had been enacted only a few months earlier, and segregation was still prevalent. "Growing up," she recalled for me, "we weren't black, we were negroes – a very negative term – so to go to a country where people just adored us, well, that was new!" In visiting Britain, Wilson added, "we were treated like royalty. We were not treated like that in the States, even though we had started to have hit records."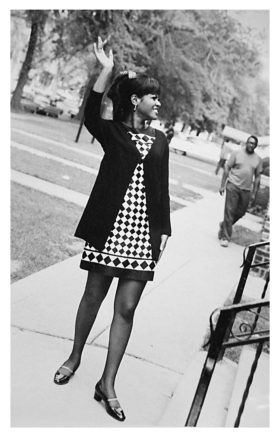 In 1965, Motown decided to send a package tour of its artists to the UK with a line-up which, today, would be hard to imagine for reasonably-priced admission: Martha & the Vandellas, the Miracles, Stevie Wonder and the Supremes. Gordy undertook this expensive venture to help launch the Tamla Motown label in Britain with its own identity (previously, the firm's music had been released by EMI under a generic American imprint). He was encouraged by the passion of Godin and the fan club's members.  Mary Wilson and Martha Reeves only spoke of the warmth of the experience of their visit although the artists, aside from the Supremes, were not very well known here at the time.
Nonetheless, those artists were soon on the ascent in Britain. Having registered just one Top 20 single in Britain during 1965, Tamla Motown delivered seven the following year – and added many more to the board in the years since. It's a familiar but compelling list, including some of the 20th century's most popular records: "Reach Out I'll Be There" by the Four Tops, "I Heard It Through The Grapevine" by Marvin Gaye, "Superstition" by Stevie Wonder, "War" by Edwin Starr, "I'm Gonna Make You Love Me" by Diana Ross & the Supremes and the Temptations, "I Want You Back" by the Jackson 5," "Papa Was A Rollin' Stone" by the Temptations, and more.
Other Motown records sold better in Britain than in the US, among them, "Behind A Painted Smile" by the Isley Brothers, "I'm Still Waiting" by Diana Ross, "Abraham, Martin And John" by Marvin Gaye, "One Day In Your Life" by Michael Jackson, and "What Becomes Of The Brokenhearted" by Jimmy Ruffin. The last of these was a Top 10 success in the U.K. – twice. No surprise, then, that Ruffin should subsequently emigrate to live in England, as did Edwin Starr.
As for Stevie Wonder, he blocked the American release as a single of his heartfelt 1980 tribute to Dr. Martin Luther King, "Happy Birthday," but created no obstacle to its UK issue in that form. It was, of course, a huge hit.
Given Britain's enduring love affair with Motown, it was entirely logical, that Berry Gordy should come to London for the opening there of Motown The Musical in 2016, just as, several years earlier, he happily took part in a ceremony with Paul McCartney.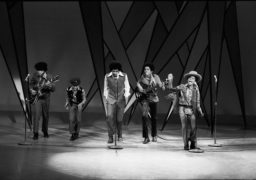 It was to mark the former Beatle's financial contribution to refurbishing a Steinway piano used in the original Motown studio in Detroit, at what is now the Motown Museum. "[Paul] told stories about how the Beatles listened to our music, before they were really popular," said Gordy. "There are just so many memories I have with the UK Even though a lot of countries came [in line] after that, I will personally never forget that whole UK experience."
Black History Month would like to thank Adam White for this contribution and credit his book Motown – The Sound Of Young America by Adam White with Barney Ales, newly published in paperback by Thames & Hudson.  More information about Adam can be found at  http://www.adampwhite.com/westgrandblog
The book can be purchased directly fromhttps://thamesandhudson.com/motown-9780500294857 who have offered Black History Month readers a 20% discount from the normal price of £28.00.
This article was first featured as a BHM 365 tribute to African-American History month 2019 compiled by BHM 365 Editor.