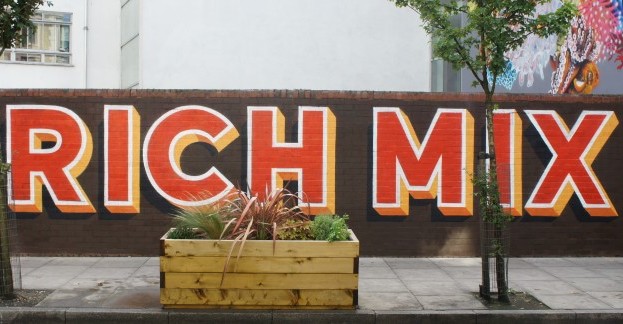 Rich Mix Youth Takeover Festival is dedicated to young people, offering a range of creative workshops, live music events, fashion shows, film screenings, masterclasses, panel discussions, gigs, industry advice and more.
Aiming to encourage young people to access Rich Mix and other arts organisations, last year we collaborated with over 30 creative partners, reaching an audience of 2000 people, while in February 2016 a week long edition of the Festival attracted 700 people.
This summer we plan to dedicate the building once more to young people aged 16-25. Hosting activities from 25th July – 14th August which are young-person focused or young-person led.
The activities will cross artistic genres (music, theatre, dance, spoken word, visual arts and film) with the aim of giving young people a chance to work with professional artists and arts organisations; to find out more about working in the arts; to develop their own events; to network with other young people and learn and develop valuable creative skills.
We welcome arts organisations to use this opportunity to host taster sessions of what they might offer to young people and consider skill development workshops and emerging talent showcases a priority.
Day time events will be anytime between 11am-3pm and evening events will be from approximately 6pm-11:45pm
There is no fee to host an event at this festival and all events are free or low cost for young people.
This call out is open to:
•             Arts organisations that produce work for young people.
•             Organisations who would like to develop projects with young people.
•             Artists or groups of artists under 25 who would like to showcase their work.
•             Work produced by organisations in collaboration with their young people's ambassadors/steering group. Please note: If your young person's group are leading an event they will need to be stage managed by your organisation. Please look out for the event produced by our very own Young Ambassadors.
FUNDING:
Rich Mix are currently seeking funding to cover some of the costs of the Youth Takeover Festival. However, should we not receive funding we would still like to be able to programme some activity, though we may not be able to pay commissioning fees, we could still offer the following support in kind:
•             Free space for your workshop/event/performance
•             Technical support
•             Marketing support
PLANNING & PROPOSALS:
We are now seeking proposals from artists, promoters and organisations that would be able to deliver events during July and August.
If you're keen to get involved, then we'd love to hear from you by Monday 18th April. Please complete the attached proposal form with details of your proposal. Please email to creativelearning@richmix.org.uk