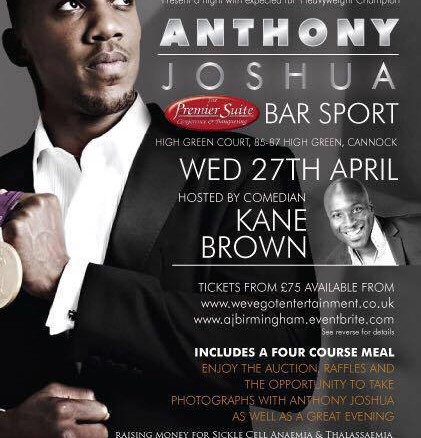 Currently residing in Birmingham, Kadi Wilson's history in raising awareness for Sickle Cell Anaemia spans back ten years and dozens of events, all with the promise of reserving the legacy of her cousin, Paul Jarrnett; an unfortunate victim to have fallen in their battle with Sickle Cell Disease.
The genetic condition, mostly found in descendants of those who lived in tropical and sub-saharan African climates, currently stands to have no known cure and claims the lives of over 170,000 people each year.
"I promised [Paul] that I would preserve his legacy, that I would fight to raise awareness for this very serious- but almost unknown disease," Kadi tells during our phone conversation. It is a promise she has kept for the past ten years, backed up with action that seems to get bolder and larger each time.
"We used to do comedy shows and have a collection at the end to raise money for Sickle Cell research, donating the money to The Sickle Cell And Thalassemia Centre at [Birmingham] City Hospital."
In recent years and following the success of the viral sensation, ALS Bucket Challenge, Wilson would go on to create her own video challenge in an attempt to raise awareness for Sickle Cell diseases. Called the 'Red Balloon Challenge' the idea is that participants blow up a red balloon, representing a red blood cell, till it bursts- much like what happens within the body for those suffering with Sickle Cell Disease.
"I've had grown men tell me that they are afraid of a balloon bursting and refuse to do it," she chuckles. "But for every person that does it, I'm grateful because it does something to help people recognise Sickle Cell Anaemia and Thalassemia.
Today, Kadi's efforts to raise money and awareness for the Birmingham building continues, as she finalises plans for an event in which the current IBF and Olympic Champion, Anthony Joshua has promised to support.
"You would be forgiven to think that we only asked him after his fight, but in truth we asked him way before and would have had it before if he were not busy training for his fight with Charles Martin." I am reassured, before asking as to whether or not any other high profile star was on the cards to headline the event.
"Not really. We immediately thought of Anthony Joshua when we wanted someone who is a good role model and Anthony Joshua fits that role."
The event, which promises to take place later this week on April 27th, will feature a full, four course meal, a meet and greet session as well as an interview with Anthony Joshua by former WBC champion Richie Woodhall.
"It's going to be a great event in celebration of a sporting champion."