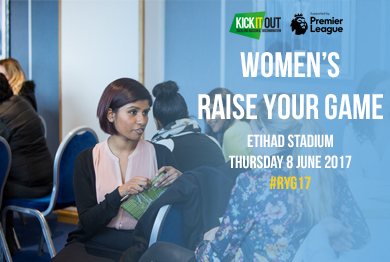 The Raise Your Game series, which is run by Kick It Out and supported by the Premier League, heads to The Etihad Stadium, on Thursday 8 June 2017 for its Women's Raise Your Game event.
Kick It Out is football's equality and inclusion organisation, and works with football authorities, clubs, players and supporters to tackle racism and discrimination.
Women's Raise Your Game (#RYG17) is a mentoring event for those women who wish to forge a career in football, or wish to explore alternative career opportunities in the game. Kick It Out is continuing its efforts to diversify football's workforce and ensure the game is reflective of society in 2017.
Register here for this FREE event on 8 June at the home of Manchester City.
The event, hosted by BBC Sport presenter Jessica Creighton, runs from 10am – 3pm.
Vicky Kloss, Chief Communications Officer at Manchester City is confirmed to speak and will open up the afternoon session.
The pitch-side panel – comprising of women who are in direct football-related positions in the industry – will feature Emily Hill, Children & Young People's Football Development Officer at London FA and JJ Jewels – the only hijab wearing referee officiating in men's grassroots football, as well as fellow official Lucy Oliver, who was in charge of last month's FA Women's Premier League Cup Final, amongst others.
A workshop looking at how you present yourself to perspective employers, including a look at your CV, as well as a media workshop, featuring BBC staff such as Shelley Alexander (Editorial Lead on Women's Sport) and her colleagues Anna Thompson and Rhia Chohan, will provide guests with useful tips and industry information.
Those who have already registered will receive information direct from Kick It Out before the event confirming the schedule for the day.