Athlete and inspiring activist Colin Kaepernick has been honoured with Amnesty International's 'Ambassador of Conscience' award for 2018, the human rights organisation announced today (Saturday 21 April).
The award was presented to Kaepernick by American football player and former teammate Eric Reid at a ceremony in Amsterdam, the Netherlands.
During the 2016 pre-season of the National Football League (NFL), Kaepernick knelt during the US national anthem as a respectful way of calling for the country to protect and uphold the rights of all its people. The bold move was a response to the disproportionate numbers of black people being killed by police in the USA. It sparked a movement that follows a long tradition of non-violent protests that have made history.
While the polarised response to the 'take-a-knee' protest has ignited a debate about the right to protest and free speech, Kaepernick has remained focused on highlighting the injustices that moved him to act. His charity, the Colin Kaepernick Foundation, works to fight oppression around the world through education and social activism, including through free "Know Your Rights" camps which educate and empower young people.
Colin Kaepernick said:
"I would like to thank Amnesty International for the Ambassador of Conscience award. But in truth, this is an award that I share with all of the countless people throughout the world combating the human rights violations of police officers, and their uses of oppressive and excessive force.
"To quote Malcolm X – "I, for one, will join in with anyone – I don't care what colour you are – as long as you want to change this miserable condition that exists on this earth" – I am here to join with you all in this battle against police violence.
"While taking a knee is a physical display that challenges the merits of who is excluded from the notion of freedom, liberty, and justice for all, the protest is also rooted in a convergence of my moralistic beliefs, and my love for the people."
Salil Shetty, Secretary General of Amnesty International, said:
"The Ambassador of Conscience award celebrates the spirit of activism and exceptional courage, as embodied by Colin Kaepernick. He is an athlete who is now widely recognised for his activism because of his refusal to ignore or accept racial discrimination.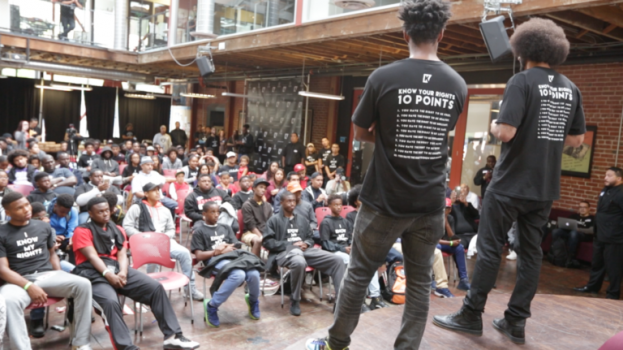 "Just like the Ambassadors of Conscience before him, Colin Kaepernick chooses to speak out and inspire others despite the professional and personal risks. When high-profile people choose to take a stand for human rights, it emboldens many others in their struggles against injustice. Colin Kaepernick's commitment is all the more remarkable because of the alarming levels of vitriol it has attracted from those in power."
The Ambassador of Conscience award is Amnesty's highest accolade, celebrating an individual or group who have shown exceptional courage standing up to injustice, used their talents to inspire others and who have furthered the cause of human rights.
Past winners include Nelson Mandela, Malala Yousafzai, Ai Weiwei, Harry Belafonte and Joan Baez.
The Ambassador of Conscience award 2018 ceremony took place on Saturday 21 April at 16.15HRS BST at the Amsterdam Theater, Danzigerkade 5, 1013 AP Amsterdam, Netherlands.