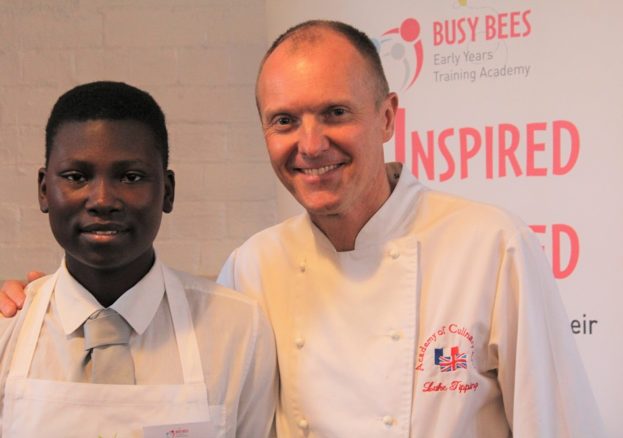 After several months of internal heats within secondary schools across the region, the successful finalists' and their dishes have been announced and will compete for the title at Harborne Food School on 12th October, in front of a judging panel which includes award-winning Chef Director, Luke Tipping, from Birmingham's top Michelin-star restaurant, Simpsons. (See Notes to Editors for full list of finalists and participating schools.)
Building on the success of last year's inaugural competition, which was won by 14-year-old Tre Whitelock from Wheelers Lane Technology College in Kings Heath, the six finalists will be preparing a range of dishes to demonstrate their culinary ability. The shortlisted dishes include Jamaican Jerk salmon patties on a bed of roasted vegetables to lamb & feta-stuffed roast red peppers with Caribbean coconut rice, peas and roasted butternut squash puree.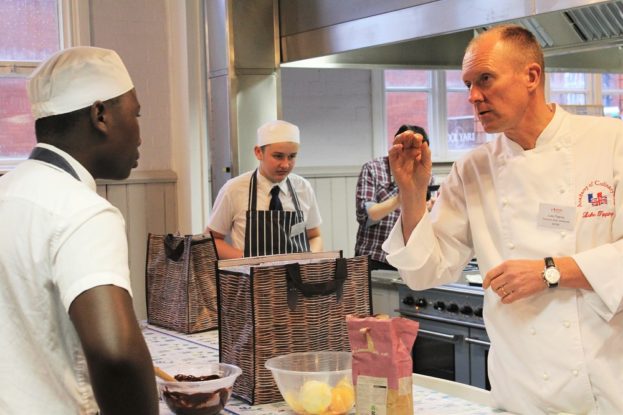 As well as forming part of the judging panel, Luke Tipping will be offering expert tips and advice to the entrants to support and guide them throughout the final. As an advocate of the 'Love Food, Hate Waste' campaign, the ingredients available to the students, as suggested by Luke, will be some of the best seasonal produce from the UK.
The winning young chef will be awarded with the unique opportunity to spend a morning at the Simpsons Cookery School, along with a family member, for a personal mentoring session with Luke, as well as a family meal for four at Simpsons.*
Talking about his involvement in the 'Greens to Gourmet' competition, Luke said: "I'm delighted to be supporting Busy Bees Training Academy's Greens to Gourmet cookery competition again this year and helping to inspire talented young cooks in Birmingham to pursue a career in the kitchen.
"Through competitions such as these and national awareness events such as British Food Fortnight (17th September- 2nd October), I hope that we can showcase, both to students and the wider community, some of the outstanding ingredients available from local British producers."
Other members of the judging panel will include judges, Colin Diamond, Interim Executive Director of Education at Birmingham Council, Paul Fulford, Birmingham Restaurant Critic, and last year's winner, Tre Whitelock.
Tre gives us his thoughts on how the competition helped him realise his career aspirations; "Taking part in the Greens to Gourmet competition made me believe in myself in a way that I hadn't before; it inspired me to pursue my passion for cooking and meeting Luke really made me see what it takes to be a great chef. Winning the final was the best thing to happen to me all year – it meant so much to me. I can't wait to be involved again this year and I'm really looking forward to seeing what the finalists have in store!"
Going on to talk about his plans for the future, Tre said; "Cooking is my absolute passion but I never really considered it as a career before I entered the competition. I'm predicted to get an A at the end of this year in my Food Technology GCSE and hope to go on to further education. Once I have completed that, I would like to work in several establishments with different styles of cooking to really expand my knowledge and skills."
Training Manager at Busy Bees Training Academy, Fay Gibbin, said: "We are really looking forward to building on the success of last year's competition and would like to thank Luke and the team at Simpsons for their involvement so far, as well as the other members of the judging panel and Harborne Food School for providing a fantastic venue for the final. The raw talent demonstrated by the entrants last year was truly remarkable and we can't wait to see the level of creativity that the entrants bring to the competition this year.
"Busy Bees Training Academy currently offers catering apprenticeships throughout our nurseries, as well as within external independent settings, so we know the level of creativity and passion young people can bring to the industry. We are hoping that Greens to Gourmet will encourage our finalists and inspire others students to pursue their passion for cooking, as well as offer them the chance to take part in a fun and creative activity that provides them with an exciting learning experience beyond the classroom."