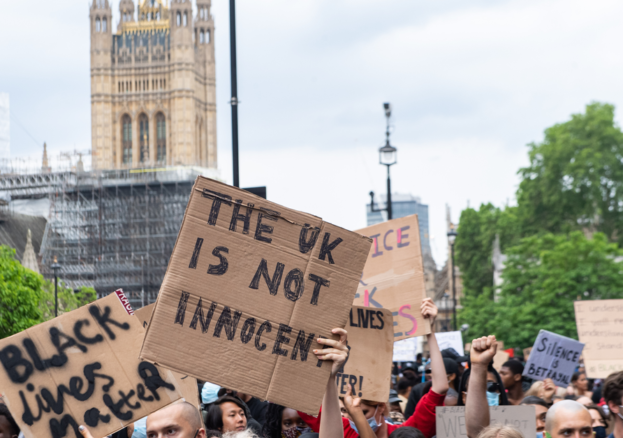 The killing of George Floyd was the catalyst for widespread anti-racist protests in the summer of 2020. Though Floyd's death took place in the US, the cry for racial justice was felt deeply in the UK and across the world. Britons stood up against racism, declaring support in their thousands for the Black Lives Matter (BLM) movement via a succession of passionate protests.
Although a number of groups had been organising under the BLM banner since the mid-2010s, the scale of the protests was far beyond what had been seen previously. More than 260 towns and cities held protests in June and July, from Monmouth in south Wales to Shetland in Scotland. At their heart was a new generation of young Black Britons.
Tonight  the Sheila McKechnie Foundation has recognised the Black Lives Matter movement for inspiring anti-racism work across the country.
By July 2020, more than 210,000 people had come out in support for the movement. British historians have described the demonstrations as the largest anti-racism rallies seen in the 20thor 21st century. They suggest that the only larger political movement in Britain's history was the campaign to end the Transatlantic slave trade.
The protests saw an overwhelming amount of businesses 'both big and small' publicly declaring their backing for the movement, including Lego, Uber, Amazon, Etsy, Nike, Vogue and Sainsbury's. The regional protests also saw endorsement and support from local councils and politicians. This included Liverpool, Leeds, and Wakefield councils lighting their civic buildings in purple to show solidarity with the protest movement and in honour of Floyd.
SMK Judge Dominic Church says: "Black Lives Matter had such a huge impact, the biggest protests since the abolition of slavery. BLM has elevated people's awareness of racism and driven people who before were only professed anti-racists to become active, take responsibility and action. BLM's impact has been far reaching in terms of awareness, leading to, I believe, widespread societal change"