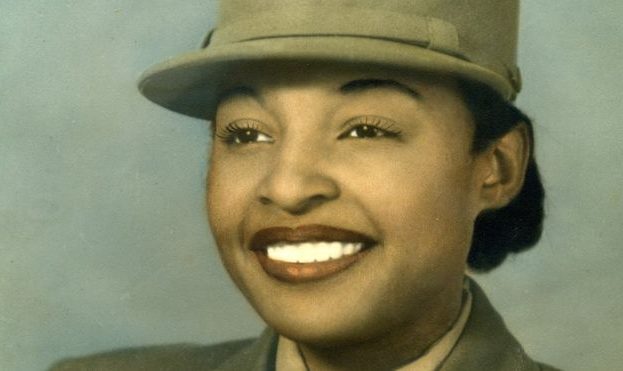 When Millie Dunn Veasey joined the US military it wasn't the most auspicious of starts.
"I didn't weigh more than 102 pounds (46kg) and didn't know how to tie my tie," she later recalled.
But she was making history: it was 1942 and she would go on to serve in the only all-female, all-black unit in World War Two.
After that, she would return to her native North Carolina and play a leading role in the burgeoning civil rights movement.
Dunn Veasey died on Friday, 9 March, a little more than a month after her 100th birthday. She was one of the last surviving African-American women to have served in WW2.
"Her heart was tired," her niece Elsie Thompson told WNUC radio station in North Carolina.

Born Millie Dunn in Raleigh, she was one of six children. Her grandparents had been born into slavery, but did not speak about it.
In December 1942, a year after the US had joined World War Two, she saw posters – all featuring beautiful white women – encouraging women to join the military.
At that time, few African-American men joined the Army – and it was even more unusual for an African-American woman to do so.
"I thought to myself that if those white women can do it, so can I," she said shortly before her 100th birthday. "And besides that, my country needs me."
Dunn Veasey went on to join the Women's Army Auxiliary Corps, based first in North Carolina then Colorado.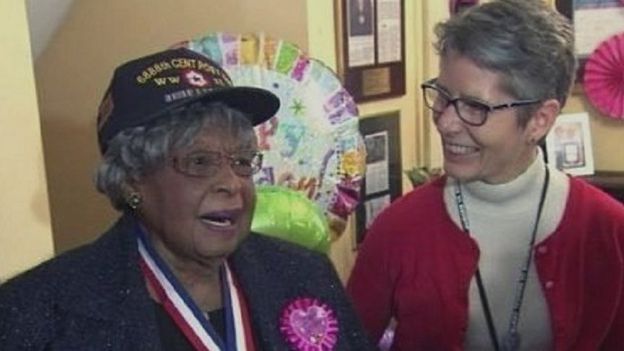 By late 1944, the US military was facing a shortage of manpower and troop morale was low, with an enormous backlog of mail ensuring many had been left with no news or packages from home for years.
First Lady Eleanor Roosevelt, spurred by black activist Mary McLeod Bethune, pushed the War Department to make use of the women's corps, and a new all-black unit was formed from it: the 6888th Central Postal Directory Battalion, also known as The Six Triple Eight.
"It was huge," Beth-Ann Koelsch, the curator of the Women Veterans Historical Project at the University of North Carolina, told the BBC.
"A lot of these women were very educated but the only jobs commanding officers had thought they could do were janitorial, or working in the kitchen.
"They were not storming the ramparts, but the work that they did do was huge."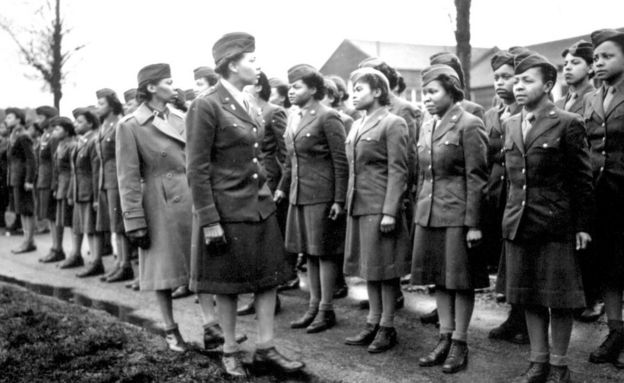 While Dunn Veasey and her fellow Six Triple Eight members did not see action on the front line, they had to be trained and prepared to fight if called upon to do so.
The Six Triple Eight, many of whom had never left their home towns let alone the US, reached Birmingham in the UK after a journey by sea that was almost scuppered by German U-boats.
Once there, their status as the only all-female, all-black unit was made clear: they were separated not only from the men in other units, but also from white women in the forces.
Dunn Veasey was shocked to find that she and her colleagues had to sleep on beds made of straw, so managed to negotiate real mattresses for them.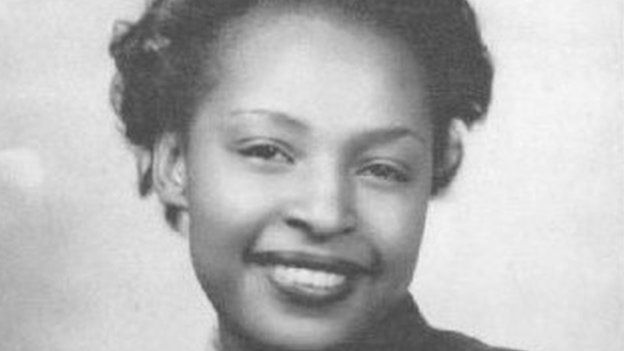 The challenges they faced were enormous. There was a backlog of millions of pieces of mail, some of which had remained undistributed for up to two years.
The women worked with no natural light and rats surrounded unsent packages, some of which were filled with rotting food.
Trying to identify the recipients of the mail was a huge task.
"At one point," the unit's commander Maj Charity Adams wrote, "we had more than 7,500 Robert Smiths.
"Moreover, there were variations of first names, nicknames that are used in the United States: Bob, Rob, Bobby, Robby, Bert, and so forth, just for Robert."
The Six Triple Eight – motto No Mail, Low Morale – became detectives and developed a system to tell apart the millions of people serving for the US military and Red Cross.
Working 24 hours a day in three eight-hour shifts, they sorted through an average of 65,000 items of mail every shift – succeeding even in ensuring a letter marked only "Junior" found its way to its intended recipient.
When a general arrived and was surprised to see only a third of the staff working because of the shift pattern, he threatened: "I'm going to send a white first lieutenant down here to show you how to run this unit."
"Over my dead body, sir," Maj Adams told him, according to her memoir.
Entrusted to finish the job, they did so in only three months – half the expected time.

On VE Day, Dunn Veasey found herself on leave in London, and was standing near Big Ben as its bell rang to declare the Allied victory – a moment she later said was the most memorable of her time abroad.
After their success sorting the mail in Birmingham, the Six Triple Eight – with Dunn Veasey as a staff sergeant – were sent to northern France, where they continued distributing mail.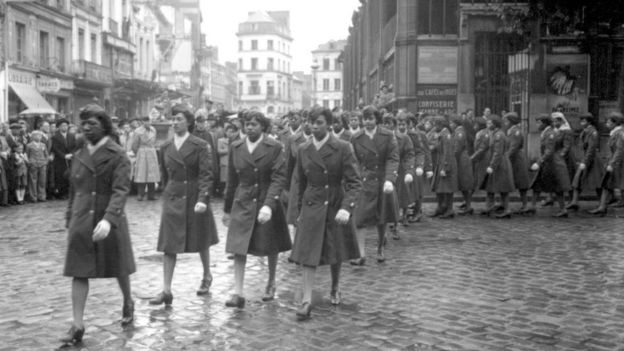 Three weeks after VE Day, the battalion was honoured in a parade through the streets of Rouen in Normandy, held to commemorate the anniversary of the death of Joan of Arc.
The crowd applauded the African-American women as they paraded through the city, but reminders of their unequal status in America were never far away.
On the boat home, a corps of white nurses initially refused to sail under the authority of Maj Adams. And the more than 800 members of the battalion returned home to a US that was just as segregated as when they had left.

After being given the chance to train to become an officer, Dunn Veasey declined and decided to pursue a business administration degree in university instead.
She later worked as a teacher and as executive secretary to the president of St Augustine's College in Raleigh, but also became more prominent in the civil rights movement.
In 1963, she took part in the March to Washington, calling for stronger civil and economic rights for African-Americans. She walked alongside Martin Luther King Jr at the event, during which he delivered his "I Have a Dream" speech.
"I found him to be a most remarkable young man, always with dignity," she said in an interview last February. "He was always interested in what you were doing, what the individual was doing, and persuaded them to do more."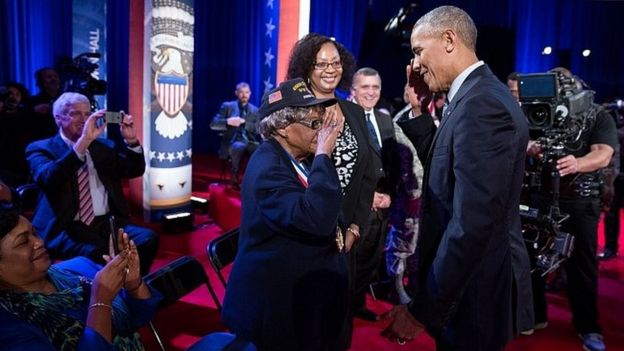 Two years after the March on Washington, she became the first female president for the National Association for the Advancement of Colored People (NAACP) in Raleigh, and remained active in civic groups until her last years.
A month before her death, Dunn Veasey was honoured as a "living legend" by the Congressional Black Caucus Foundation, alongside former Secretary of State Colin Powell. She was unable to attend the ceremony.
Elsewhere, efforts to commemorate the Six Triple Eight with a statue are under way, with plans to unveil it later this year.
"I don't think of myself as a hero," Dunn Veasey, who leaves a daughter and son, told North Carolina Public Radio in 2013.
"My approach is that you don't ask persons to do no more than you're gonna do yourself. We wanted to get things done, and we got things done."