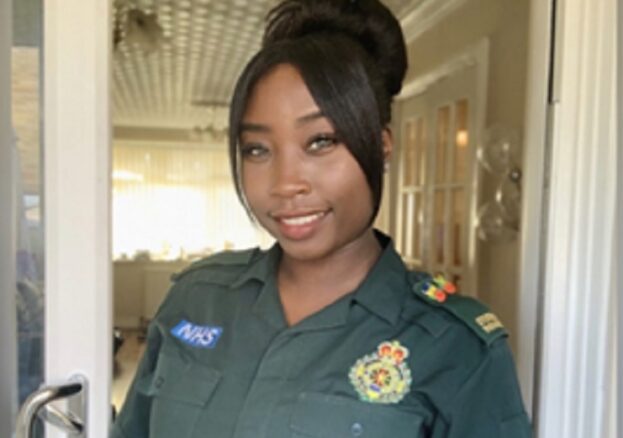 Nicole wanted to be a paramedic from a very young age. She explains 'I believe this stemmed from combining both my parents' careers. Mother is a nurse (I love medicine) and Father is a lorry driver (I love driving)'. 
Identifying as British Caribbean (Jamaica and Barbados), all four of Nicole's grandparents came to Britain in 1955 as part of the Windrush generation. The British government invited West Indians to work for the new National Health Service and help rebuild post-war Britain.
'My grandmothers worked as auxiliary nurses and my grandfathers worked as a bus conductor and a carpenter. All of them experienced racism in some form, but with determination to have a better life. If it wasn't for them, I wouldn't be here today. My grandmothers are now 80 and 90 years old.'
Growing up in Birmingham, Nicole first applied to become a paramedic at the age of 18, but was told she lacked adequate experience. Instead she went on to qualify as a nurse, a role Nicole says 'I absolutely love, but I still felt like something was missing'. So, Nicole applied for a second time and began her paramedic training in March 2020.
One of Nicole's proudest moments was when her experience as a cardiology nurse and her additional study, was put into practice as a trainee paramedic. Dealing with her first heart attack patient, Nicole was able to remain calm and reassure the patient by explaining each stage of the treatment. 'I felt like my hard work and understanding was recognised during this time'.
The biggest challenges that Nicole has faced include dealing with an unexpected death from suicide, children, accidents and patients with no medical history. Nicole explains 'trying to get my head around why and not having answers is hard, but I have learnt to accept it for what it is, accept that I did everything that I could and reflect on what I could do differently next time'. Situations like this remind Nicole 'that life can be short, so I try my best to enjoy life to the fullest'.
Nicole loves meeting new people every day, learning about their lives and how they differ from others she has met. Each day is a new challenge and Nicole is always learning. She has to drive in emergency conditions, remaining calm and focused on the task ahead.
In the future, Nicole would love to combing her nursing with her paramedic career by doing a master's course or prescribing to become an advanced practitioner. Nicole would like to travel the world, not only to appreciate the NHS, but to learn new skills and observe different medical practices.