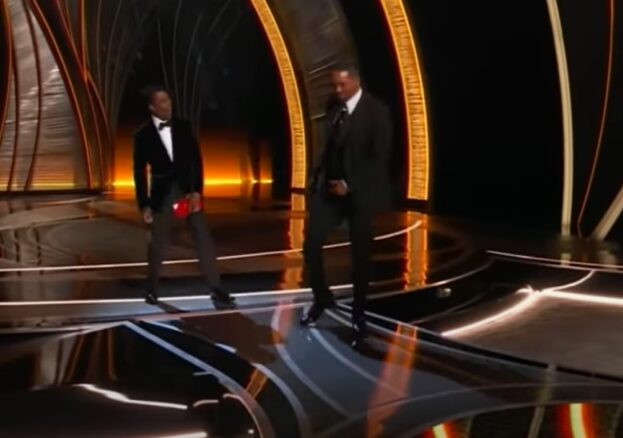 Rock was on the Oscar stage to present the award for best documentary. He began by making a few jokes about members of the show's audience, including Pinkett Smith.
Chris Rock made a joke about Jada Pinkett-Smith being in "G.I. Jane" because of her bald head. She's spoken openly about having a hair loss condition.
Will Smith ran on stage, slapped Rock, then screamed twice at the top of his lungs "KEEP MY WIFE'S NAME OUT OF YOUR F-NG MOUTH."
Pinkett Smith has spoken in the past about her battle with alopecia.
At first, watching the telecast, it was unclear whether the assault was a planned stunt.
But the show's audio immediately cut out after Smith slapped Rock, then stayed muted as Rock said, "Will Smith just smacked the shit out of me," while Smith walked away. When Smith yelled from his seat, Rock, still onstage, seemed stunned.
"Wow, dude," replied Rock "It was a G.I. Jane joke."
Rock went on to present the documentary prize to Summer of Soul director Questlove.
Immediately after, Sean "Diddy" Combs came onstage to introduce a clip montage celebrating the 50th anniversary of The Godfather.
"I didn't know that this year was going to be the most exciting Oscars ever!" he said.
"Okay, Will, Chris—we're going to solve that like family. But right now, we're moving on with love."
In the press room, Questlove declined to answer questions about the altercation.
Reporters in the press room were also told they could no longer ask questions about other parts of the show, to head off any more queries about the slap.
Denzel Washington pulled Smith to the side for a conversation after the exchange, kneeling alongside Pinkett Smith when the show returned from the commercial break.
Tyler Perry also joined Washington and Smith during the commercial break. The Smiths held hands at their seat for the rest of the show after the assault.
We have not heard the end of this sprat for sure.
By the way, Best Picture went to Coda, and ironically a very emotional Will Smith went up to get the Best Actor award for King Richard.
About Alopecia
Studies in the US have found that over 50% of black women complain of some sort of hair loss. In addition, black women are more likely to suffer from many sorts of hair loss compared to other ethnic groups.
Alopecia (which is the term for hair loss) depending on the type and the extent, can be very visible and people deal with this in many different ways. Jada Pinkett talked about her hair loss back in 2018, and along with 2 other celebrities who later spoke out, some of the words they used individually and collectively to describe their feelings towards it were the following: embarrassed, struggle, debilitating, ashamed, lonely, betrayed.
Hair loss is clearly not a joke.
On the issue of hair loss, it is clear that it can be very triggering for many sufferers. I see a number of women with various types of hair loss, including some who complain of traction alopecia which is a very common type of hair loss seen in black women and can affect the front and sides of the scalp. This is caused by tension applied to the scalp hair, when the hair is repeatedly being pulled back into styles, including tight braids, tight weaves, tight ponytails, tight locs.
Another type of hair loss I should mention is CCCA or Central Centrifugal Cicatricial Alopecia. This is a progressive and permanent type of hair loss predominantly seen in black women. As many as 1 in 20 black women may be affected.
In the past, hairstyling including the use of the hot comb, relaxer, tight extensions and weaves were thought to have caused this type of hair loss, but recent research has found a link to a gene that may point to one of the causes of the onset of the onset of this condition. On-going research is continuing.
Some of the treatment may includes the use of steroids, laser treatment and various other remedies, but the key is to seek treatment early – as soon as the hair loss starts to develop. Symptoms may vary from no symptoms at all, to hair breakage and irritation in the part of the scalp that is being affected.
If you are worried about hair loss, then you may get in touch at www.caringforhair.org to book a consultation.