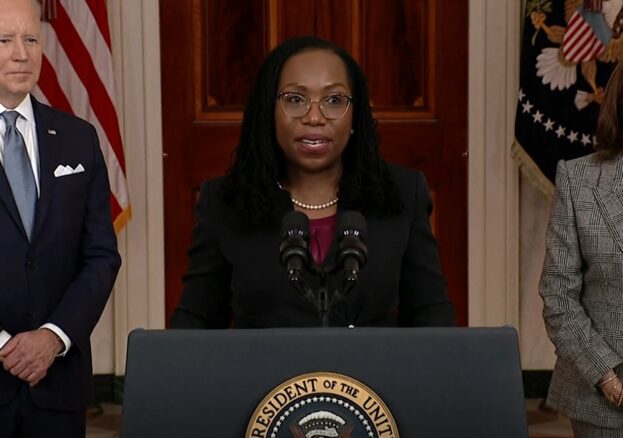 On Feb 25th, President Joe Biden nominated federal appellate judge Ketanji Brown Jackson to the U.S. Supreme Court. This historic nomination would make her the first Black woman to serve on the nation's highest court of law.
With a sharper eye, one could argue that his decision is an attempt to win back the Black demographic. Polls have shown his numbers dropping in support from the Black community, the
same community that helped him win the presidency, voting 92 percent to 8 percent for his candidacy. A Democratic-oriented group, Navigator Research found that his numbers dropped
10 percent throughout his first year in the White House (from 86 percent to 76 percent). Others would say he was keeping his campaign promise to diversify the Supreme Court by appointing a Black woman. Whatever his intentions, the confirmation process for Jackson has started in the U.S. Senate.
For the Black demographic and specifically Black women, Jackson's nomination and probable rise to the Supreme Court is both a victory and an inspiration. However, his pick has drawn fierce
criticism, mostly from Republicans and Conservatives who complain that the decision to explicitly seek out a Black woman excludes other qualified candidates from consideration.
As for Jackson, her qualifications include, graduating cum laude from Harvard Law School, a legal career as a public defender, serving as vice-chair of the U.S. Sentencing Commission, a
federal judge career since 2013, and in 2021 Biden elevated her to the United States Court of Appeals for the District of Columbia Circuit (widely viewed as the second most powerful court in
America).
Currently, the Supreme Court is represented by three women, including Associate Justice Sonia Sotomayor, the first Latina member of the Court and with Associate Justice Stephen G. Breyer
leaving, the court is represented by five men, including Associate Justice Clarence Thomas, the second Black man to serve on the Court. Ketanji Brown Jackson's edition will not only be historic but will further diversify the Supreme Court and continue to reflect the diversity in America's landscape.