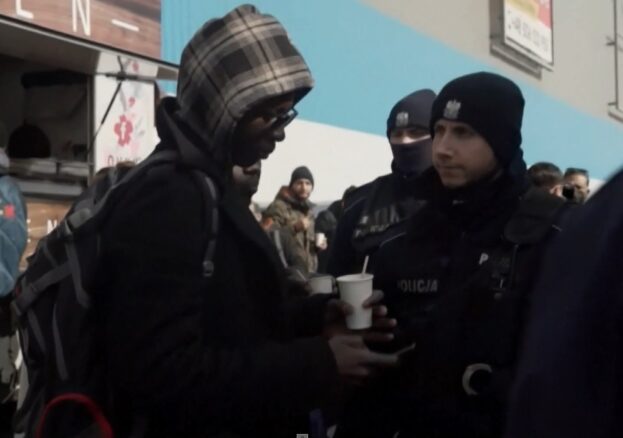 The world has been watching Russia's invasion of Ukraine, since Vladimir Putin sent troops and airstrikes on February 24th. The ramifications have caused sanctions from various countries on Russia, as well as death and destruction to Ukraine citizens. As families and individuals flee the country reports have been coming out about African students and professionals facing racism at Poland's borders.
According to a Washington Post article, two students in particular, one from Nigeria and another from Zambia, spent a day travelling by cab and foot. Once they finally made it to Poland's border they were treated "differently" than White and Ukrainian citizens based on the colour of their skin. They were even denied the opportunity to evacuate Ukraine because they were African.
But they aren't the only ones. As people take to social media to share their stories, other students and professionals are sharing their treatment at the Polish borders. The top U.N. refugee agency has also confirmed reports and are scouring the internet as more stories are shared via Twitter and Instagram. Filippo Grandi, the U.N. high commissioner for refugees said, last week, at a press conference, that unfair treatment isn't the result of state policies. Grandi told reporters, "There should be absolutely no discrimination between Ukrainians and non-Ukrainians, Europeans and non-Europeans. Everybody is fleeing from the same risks."
Representatives from African countries, including the African Union, have spoken out on the treatment and call it a breach of "international law." According to a New York Times article, "Scholars have said that amid the invasion and humanitarian crisis, Black and brown people in Ukraine could find themselves at the bottom of the social hierarchy as they try to flee."
Discriminatory treatment of non-White refugees is not just an isolated incident in Poland. Back in September and October, the U.S. received criticism for its treatment of Haitian migrants at the U.S./Mexico border. Haitians were originally fleeing due to political upheaval and poverty and then an earthquake struck the country on Aug. 14th. The earthquake killed 2,200 people and damaged 137,500 homes.
Haitians tried to seek asylum in the United States. Then images of the U.S. Border Patrol agents on horseback, whipping, apprehending, expelling, and pushing Haitian migrants in an attempt to prevent them from crossing the Rio Grande, caused controversy and a renewed debate on U.S. immigration policies.
As news continues to develop on what's happening between Russia and Ukraine, one could only hope that reports of the mistreatment of non-Ukrainians and non-Whites will shed light on a serious issue of racism against Black and brown refugees currently trying to flee Ukraine.