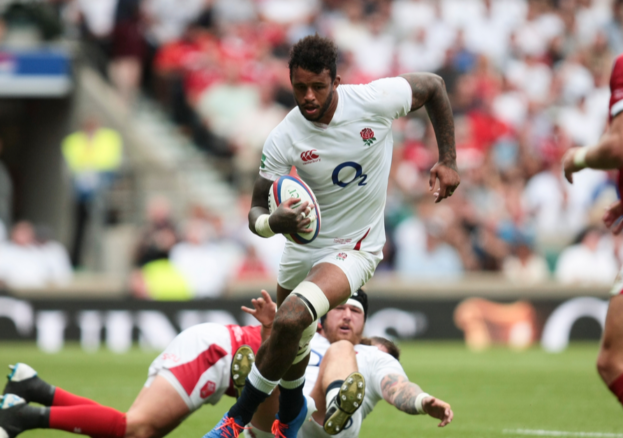 Bleary-eyed English rugby fans crowed into pubs around Twickenham last Saturday to watch England v Wales, one of the classic fixtures in the sport.
Several top international players especially for the England squad are black including Hackney-born captain Courtney Linford Lawes.

Rugby History
The legend goes that rugby was invented in 1823 when William Webb Ellis, a pupil at the fancy Rugby School, picked up the ball during a football match. This is a myth concocted to shore up the upper classes' claim over the sport, according to Tony Collins, a rugby historian.
As the game grew in popularity in northern industrial towns, wealthy teams linked to posh schools outlawed payments to players, to disadvantage teams from deprived areas, whose players needed to earn money.
This led to a split in 1895. Rugby league, a quicker version of the sport, developed in the north-east.
Meanwhile, Rugby Union flourished in the Southern heartlands and went on to conquer much of the rugby-playing world.
Apartheid in Rugby
Although Rugby in South Africa was totally a white sport until Errol George Tobias (born 18 March 1950) became the first black player to play in a test match for the South African national side.
He gained six caps between 1981 and 1984 when the country was still following the policy of apartheid.
During much of the twentieth-century rugby in South Africa was hi-jacked and the sport's healing powers were forgotten.
Racist ideology and legislation prevented White and Black South Africans from playing the game together until 1976 when the apartheid regime took its reluctant first steps toward sporting reform.
Chester Mornay Williams (8 August 1970 – 6 September 2019) was a famous South African rugby union player. He played as a winger for the South Africa national rugby union team (Springboks) from 1993 to 2000, most notably for the team that won the 1995 Rugby World Cup, which was hosted in South Africa. He was the only non-white player on the team.
In 2018, Siya Kolisi was appointed captain of the Springboks, becoming the first Black man to hold the position, and eventually leading the South African Rugby team to victory in the 2019 Rugby World Cup Final against England.
Six Nations changes
James Robertson (rugby union, born 1854) – the first known black rugby union player. He played for Royal HSFP and Edinburgh District in the early 1870s.
People like Robertson and later also the likes of Jeremy Guscott, encouraged more Black children to take up the sport.
Move forward to this year and in 2022 teams were allowed to use up to seventy foreign-born players.
On Saturday a Black British-born player, Courtney Linford Lawes was the captain for England against Wales at Twickenham.
The 2022 squad includes several Black players apart from Lawes including:
Oghenemaro Miles "Maro" Itoje, who plays as a lock or as a blindside flanker for Gallagher Premiership club Saracens and the England national team.
Etuale Manusamoa Tuilagi, known as Manu Tuilagi who plays for Sale Sharks. He has played internationally for England and the British & Irish Lions. Etuale was born in Fogapoa, Samoa.
Kyle Sinckler is another black English professional rugby union player who plays as a tighthead prop for Premiership club Bristol Bears and the English national team.
Joe Marchant is an English professional rugby union player who plays as a centre for Harlequins in the Premiership Marchant is regarded highly having received international recognition at U18 and U20 level, winning a junior world title with the latter as well as playing four times for the senior England team.
Nick Isiekwe is an English rugby union player who plays lock or flanker for Premiership Rugby side Saracens. Isiekwe was born in Hemel Hempstead. His father migrated to the UK from Nigeria.
Billy Vunipola is a professional rugby union player who plays at Number 8 for Saracens in the Gallagher Premiership and for the England national team. Born in Australia to Tongan parents, he qualified for England through residency. He made his England debut in 2013 and has since won over fifty caps.
Lewis Ludlam is an English professional rugby union player who plays as a flanker for Premiership side Northampton Saints.
It seems the public schoolboy sport is slowly changing for the better.