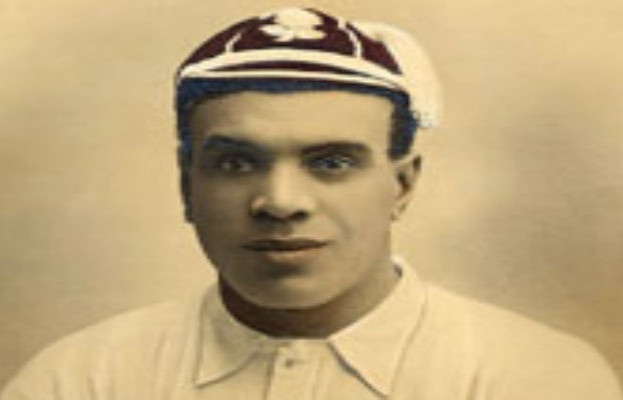 James Peters (August 1879 – 26 March 1954) was an English rugby union player and, later, a rugby league player. He is notable as the first black man to play rugby union for England. He was also known as "Darkie Peters".#
James Peters's Jamaican father, George, had been mauled to death in a training cage by lions. His mother was Hannah Gough from Wem in Shropshire. He found himself in Fegan's orphanage in Southwark and the Little Wanderers' Home in Greenwich. Greenwich Admirals Rugby League Club now celebrate Peters' life with an annual challenge game.
Peters worked in printing and his trade brought him to Bristol, where we played for Bristol Rugby Club. Peters then moved on to Plymouth.
He played rugby union for Devon, and in 1906 was to play the South Africans in front of 20,000 fans at the Plymouth County ground. However, tourists had belatedly noticed Peters' colour and were seething at playing with a black man. Initially, they refused to play but eventually the South African High Commissioner , who feared a riot if the game was cancelled, persuaded the team to play.
In 1906, England played South Africa for the first time; James Peters was withdrawn from the England squad after the South Africans objected to playing against a black player.
On 17 March 1907, Peters played for England against Scotland. The Sportsman commented that the "dusky Plymouth man did many good things, especially in passing." However, The Yorkshire Post pointed out, "his selection is by no means popular on racial grounds".
He was to play a further game, against France, in which he scored a try. Six weeks after playing against South Africa, for Devon, he was not picked for the next game against South Africa on racial grounds and was not to play another game for England.
In 1910 Peters lost three fingers in a dockyard accident, but continued to play until 1912. It was not injury, but politics that forced James Peters out of rugby union.
Clubs in the South West of England attempted to join the Northern Union (later Rugby League), form a Western League of the Northern Union with competitive fixtures.
He was suspended for accepting payment from Devon Rugby Club, which was illegal according to the codes of rugby union. Many players including Peters and also RFC Plymouth were suspended by RFU. Plymouth Ground closed signalling the end of Plymouth RFC. The rules of professionalism often owed more to politics than finance.
Peters, by then 34 and disillusioned with rugby union, was accepted into rugby league. Returning to his native North West of England, Peters played for Barrow in 1913, and then transferred to James Peters the 1st Black Rugby PlayerSt. Helens in 1914 until his retirement from rugby