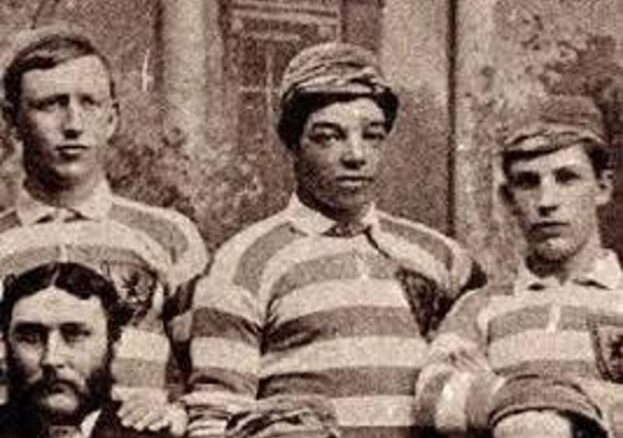 Think of any footballer to make a name for themselves in Wimbledon and the likes of FA Cup winners Vinnie Jones, Dave Beasant and Dennis Wise spring to mind. Think of black footballers to go down in Wimbledon history and most people can only name John Fashanu.
But long before Fash the Bash helped The Crazy Gang beat Liverpool in the 1987 FA Cup final, Andrew Watson was a pupil at King's College School, where records show he was outstanding at sport.
The journey that took Andrew to Wimbledon in 1871 started in South America and, ironically, would lead him to make another piece of football history in Merseyside.
Born in Demerara, British Guiana (now Guyana) on 18 May 1857, Andrew was the son of Scottish sugar plantation manager and former slave owner Peter Miller and local girl Rose Watson.
The fact that Andrew was given his mother's name implies his parents were not married. Nevertheless, before his death in 1869 Peter Miller used his wealth to send Andrew and who can only be assumed to be his two other children to England.
The 1861 census shows four-year-old Andrew staying with 54-year-old widow Elizabeth Buchanan in Staffordshire, along with 11-year-old Annette Watson and Emma McLagan, 19 – the third of the three "visitors" to be listed as born in Georgetown, Demerara.
Peter Miller left his children £35,000 in his will – the equivalent of many millions today – which is likely to have helped pay for Andrew to attend Heath Grammar School in Halifax. In the 1871 census, Andrew is listed as one of eight boarders at Heath in the household of Rev Thomas Cox, who had married 39-year-old Elizabeth Buchanan in 1857.
It's possible that both Elizabeth Buchanans had married into the same family, whose members were direct relations of Peter Miller. Although this has yet to be proved, King's College School records reveal that Andrew had moved to Wimbledon by the start of the 1871/72 school year.
Before Andrew made his international debut for Scotland in a 6-1 victory over England on 12 March 1881 at the Kennington Oval, he had also demonstrated as much talent in the classroom at King's College School as he had on the football pitch.
Andrew left Wimbledon in 1875 to study natural philosophy, mathematics, civil engineering and mechanics at Glasgow University, but would return to London later in his life.
Andrew left Glasgow University after just one year because while in Scotland he came to national prominence as a talented footballer. He joined Queen's Park – the country's premier side – from Parkgrove and won his first medal in the 1880 Glasgow Charity Cup final.
Andrew won a total of three international caps for Scotland, which would have been more had he not moved back to London in 1882 at a time when only home-based Scots were selected for the national side.
Tragedy struck Andrew in the autumn of 1882 when his wife Jessie, who he married in 1877, died. Their two children were sent back to Glasgow to live with their grandparents, leaving Andrew to combine his engineering career with playing football at a high level.
For the next three seasons he played in the FA Cup for London side Swifts, getting as far as the quarter-finals, and turning out on occasion for other clubs, including Brentwood and Pilgrims. More significantly in terms of his social status, he was sufficiently well regarded not just as a player but as a gentleman amateur footballer to be invited in to join the exclusive Corinthians club. He toured with them twice, the highlight being an 8-1 crushing of FA Cup holders Blackburn Rovers in 1884.
As a man of independent means, Andrew could afford to travel regularly to Glasgow to visit his children and play for Queen's Park, mostly in charity cup ties but also at the opening of Hampden Park. He came back to Scotland for a year to take part in Queen's Park's successful campaign, which brought him his third Scottish Cup winner's medal in 1886.
In the summer of 1887, Andrew and his second wife Eliza Kate Tyler moved from Glasgow to Liverpool, where he worked as a maritime engineer and played for Bootle FC, an ambitious club who were Everton's main rivals and reached the FA Cup fifth round.
Bootle offered wages and signing-on fees to a number of prominent players, with Andrew Watson the star attraction. While the amount of money Andrew received from Bootle pales into insignificance when compared with the wages modern day international football stars receive, the payments were enough to secure Andrew another place in football history as the first black professional footballer.
From his Merseyside base, Andrew spent the next 20 years working on ships and sat exams to qualify as an engineer.
Andrew, Eliza and their two children, Henry and Phyllis, moved back to London after his retirement and settled in Kew, where he died of pneumonia at 88 Forest Road on 8 March 1921, aged 64.
Andrew Watson, the first black international and professional footballer, is buried in Richmond Cemetery – just seven miles from King's College School, where his sporting talent was first noted.
This article first appeared on Robert Holmes & Co, which has kindly given Black History Month Magazine permission to reproduce it.