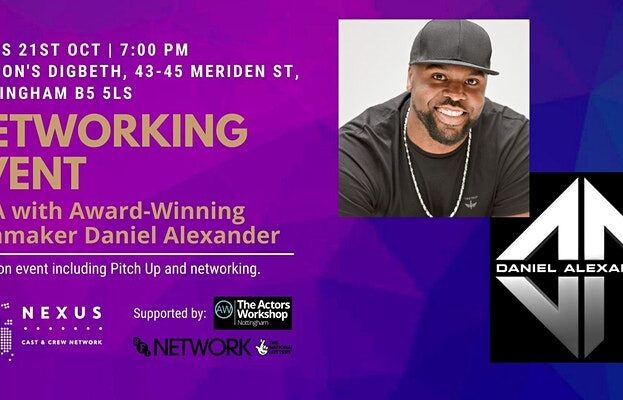 Not only are we back to in-person events, but we're also in new territory! This October marks the first ever time a Nexus event has travelled outside of Nottingham and we are so excited! We're aiming to split our events between the East and West Midlands from now on with a hope to bring both of these brilliantly thriving communities together.
THE EVENT
7:00pm – Doors open
7:30pm – Intro & Q&A with Daniel Alexander
9:00pm – Pitch Up
9:15pm – Networking!
Doors open at 7.00pm and the discussion will begin at 7:30pm. Afterwards, we have a 'Pitch Up', an opportunity for attendees to pitch themselves or a project to the room in 60 seconds, followed by chilled networking and drinks.
OUR GUEST
DANIEL ALEXANDER is an award-winning director and BFI NETWORK x BAFTA Crew filmmaker based in Birmingham. He currently produces and directs work for platforms and agencies such as the BBC and the BFI, including the official COMMONWEALTH GAMES HANDOVER for the BBC, which was streamed live from Australia and reached an audience of over 1.5 billion.
Daniel sits on the board of the region's industry screen body, 'CREATE CENTRAL' along with other industry leaders throughout the region. He has also recently been made an Associate Artist of the REP theatre. His experience includes narrative film, commercial music videos, television and documentary productions, and his expertise includes directing and producing, cinematography, editing and colour grading. He has additionally developed a range of professional tools now widely used within the film industry, notably CINEPRE, which helps filmmakers achieve cinematic colours in their work.
As well as his extensive filmmaking experience, Daniel is a qualified SEN worker and is committed to social engagement and artist development, having produced and curated the region's leading BAME film development programme, BACK IN. He also champions Midlands talent and launched The Midlands Film Archive during the pandemic.
HOW TO JOIN
Sign up for the event through eventbrite to secure your place, or turn up on the night.
Please note: We are a team of volunteers committed to facilitating networking and development opportunities for film & TV artists and creatives in the Midlands. We are introducing a 'Pay what you can' policy to help us cover the necessary expenses to ensure we can operate every month. If you can spare a small financial contribution, it would go a long way towards this, but we are understanding of those who're not in a position to contribute as it's important to us that our events are accessible to all.
More Birmingham Listings MORE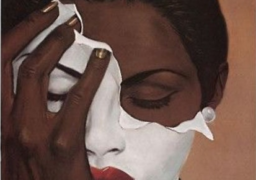 Birmingham
Saturday 11 September - Saturday 11 December 2021
We are back ladies and this time we will be meeting face-to-face! A safe space created by and…