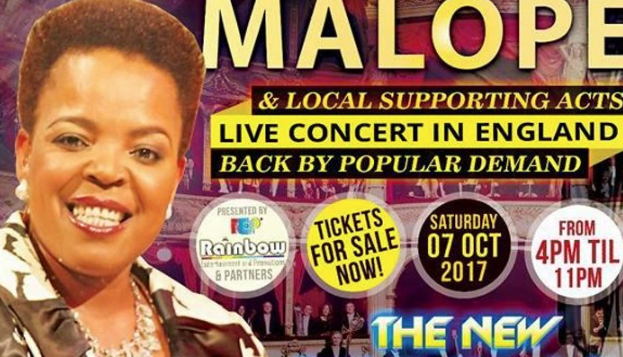 Few artists occupy the high firmament that Rebecca Malope enjoys in the South African music scene. She has
released 36 chart breaking albums, sold millions of copies, won countless music awards, honoured by
institutions of higher learning and above all is respected by her peers and revered by legions of her fans.
From the moment she entered and won "Shell Road To Fame", Malope's name was in the stars. Her superb collaboration with Sizwe Zako, Vuyo Mokoena and Jabu Nkabinde weaned her off bubblegum music and instead spurned gospel anthems that inspired generations. Her music has given birth to new believers, entrenched faith in those who started to doubt themselves and brought back hundreds from their suicide attempts. Malope, through her immense talent and voice has comforted many women who couldn't bear children, struggling to support their families or were in abusive relationships. And many more men and women whose hearts have been broken by the death or loss of their loved ones have found strength in the spiritual booster that is her music.
Rebecca's music indeed reaches people from all walks of life and from all over the world. Some of her performing successes include:
 singing at Nelson Mandela's Presidential inauguration in 1994;
 performing with the National Symphony Orchestra in 1994;
 playing the Pretoria State Theatre in 1995;
 packing out the Natal Playhouse Opera Theatre in November 1997;
 igniting the stage at a Gospel festival in Washington DC in 1997,
 and performing in countries like Israel (where she made history by travelling to Israel where
a CCV TV crew shot a 52-minute Easter specialfor national broadcast on Good Friday, 15 April 1995), the UK,
America and many African countries.
Despite all of these tremendous accomplishments and accolades, heartaches and struggles, Rebecca refuses to
forget her roots and her biggest mentor, her Lord. And she's always pushing herself forward – in particular
honing her songwriting talent. Since she joined SAMRO Rebecca has notified more than 70 songs! She is the
original gospel superstar who performs mostly new compositions and her unique style of singing has been
imitated by many young artists and continues to be an inspiration to wannabe singers.
Her TV show on SABC2 unearths new talent on a weekly basis. While her role as a judge in the South African
version of the international television show "Clash of the Choirs" showcases her musical expertise and helps
unearth the country's next big choral group. She is the big sister whose wisdom and words of encouragement
helps fuel the ambitions of the next crop of gospel stars.
DR REBECCA MALOPE BIOGRAPHY
She is not called the Queen of Gospel for nothing. Her reach and appeal remains strong over the years and she steadfastly keeps up the standards and exploring new terrain with her music.
Malope's talent is not only enjoyed and recognised in South Africa but across the continent and the world. She
has performed in the USA, United Kingdom, Paris, Germany, Nigeria, Malawi, Zambia, Tanzania, Kenya,
Botswana, Namibia, Swaziland, Zimbabwe, Lesotho, Ghana and Angola to name a few. She has a few firsts to her name. Chief of which is being the first black artist and woman to perform at the State Theatre in Pretoria after the unbanning of apartheid. Most recently she is the first South African artist to have a song (Uthando Lwam') included in the American Christian Churches hymnbook.
She has been an ambassador for Cell C, Sunlight Soap and a brand of Korean pots.
Not bad for a little girl from a rural township called Lekazi near the Kruger National Park, who went to school
on an empty stomach and without shoes, didn't finish school and lived on the streets. She hiked 400km from
home to Evaton in Gauteng and pursued her dream. Hers is a story of resilience, determination and chutzpah.
A true reminder of Phillipians 4:13 which says "I can do everything through Christ who strengthens me"
Currently, you can see her in action on your television screens every Sunday on SABC 2's 'It's Gospel Time" and
Mzansi Magic's "Clash Of The Choirs".
Rebecca Malope, Sis Ribs, Doctor Malope is a legend in her own lifetime. She is a national treasure to be
cherished. Thirty years of committed service to the music industry and many SA Music Awards Crown Gospel
Music Awards, MetroFM Music Awards, Kora All Africa Music Awards later. Music trends will come and go,
and styles will change, but Malope will remain the rock of ages!
Additional Information:
 2016 marks Dr Rebecca Malope's 30th year in the music industry.
 She has been nominated for and will be performing at the Kora Awards in Namibia on the 20th of
March 2016.
 She will be celebrating her 30th Anniversary in the UK in Birmingham on the 7th of May 2016.
****************************************************************************************************************************
TERMS AND CONDITIONS OF TICKET PURCHASE.
IMPORTANT about the ticket purchases.
WE WON'T REFUND OR EXCHANGE EARLY BIRD TICKETS OR ADVANCE TICKETS SHOULD THERE BE A CHANGE OF MIND OR CANCELLATION IF RAINBOW DID NOT CAUSE IT.
ANY CANCELLATION ON STANDARD TICKET WILL ATTRACT 75% DEDUCTION FROM TOTAL PRICE.
IF YOU ARE UNABLE TO ATTEND AND NOTIFY US ON THE DAY WE WILL NOT REFUND.
THERE IS NO REFUND FOR NO SHOWS.
PLEASE NOTE THAT WHEN YOU PURCHASE THE TICKET YOU ACCEPT OUR TERMS.
YOUR DECISION IS FINAL.
PLEASE BRING ALONG 2 FORMS OF I.D – THE BANK CARD YOU USED FOR THE TRANSACTION AND PHOTO I.D.
SHOULD YOU USE YOUR CARD TO PURCHASE A TICKET FOR SOMEONE, PLEASE NOTIFY RAINBOW FIRST AT INFO@RAINBOWENTERTAINMENT.CO.UK IN WRITING OTHERWISE ENTRY AT THE VENUE WILL BE DENIED.
PLEASE BRING A PAPER COPY SO THAT WE CAN VERIFY SIGNATURE AND RETAIN THE COPY AS REQUIRED BY LAW.
NO RECORDING ALLOWED PLEASE.
IN CASE YOU ARE NOT SURE PLEASE CONTACT US AT 07907033387 TO AVOID DISAPPOINTMENT OR INCONVENIENCE.
DOORS OPEN AT 4PM AND SHOW STARTS AT 5PM SHARP WITH CURTAIN RAISERS OPENING THE EVENT.
SEE YOU ON THE 7TH OF OCTOBER 2017
More Birmingham Listings MORE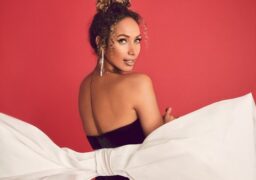 Birmingham
Thursday 14 December
"This is really really difficult for me to express so please bare with me. I put my all…