Few artists are ever as controversial as they are influential. New York legend R.A. the Rugged Man has lived up to such a moniker by simultaneously inspiring generations of rappers while being banned from every major record label's offices and even barred from performing during the late-90s underground explosion.
Beginning his music career at age 12, building a reputation locally for his lyrical skills. R.A. signed to major label Jive Records at age 18.
He has worked with the likes of Mobb Deep, Wu-Tang Clan, Kool G Rap, and Notorious B.I.G., as well as producers Erick Sermon, Trackmasters, DJ Quik, The Alchemist, J-Zone, and Ayatollah.
Opening up the show on the evening will be London's very own Shao Dow.
LINE UP
R.A. The Rugged Man
Shao Dow
PRICE
Standing: £17.50
Restaurant: £20-25
DOORS
19:00-22:30
More Camden Listings MORE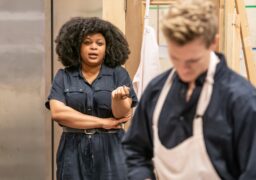 Camden
Monday 16 October - Saturday 2 December 2023
It's kind of a ritual, we speak the truth. Then, let go and cook. In the bustling kitchen…