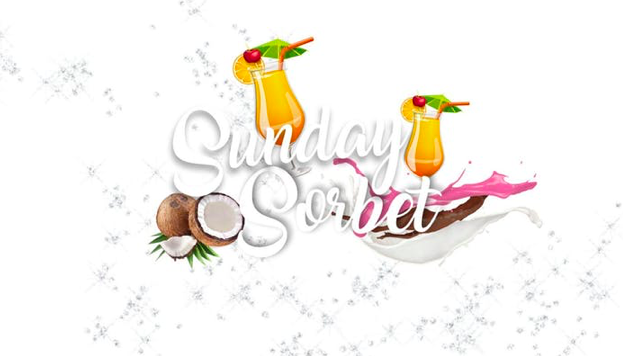 SORBET COCO, ZOUK, Dancehall, Bouyon and Rhum Punch…Sunday Sorbet is back for a Special ALL WHITE Brunch Edition !
After the success of the last 🍦 Sunday Sorbet Brunch Party!🍦 we decide to bring Back a summer
So, it is our great pleasure to announce that Sunday Sorbet is back in August 🍦🔥
Drinking , eating and dance on your favourite (French) Caribbean Music, whilst being delighted by the Super Tasty Handmade Coconut Sorbet! This is what we do.
Come again to share a brunch us follow by the proper party time : A cocktails in one hand and a Handmade sorbet in the other !
Be Fresh like your Sorbet this is how we want you to be ! 💫
DRESS CODE is White & Chic in order to match your sorbet with elegance!
The Brunch Package
£30 Bottomless Rum Punch Brunch Option included: 1 main course, 1h Bottomless Rum Punch, As you can eat Sorbet Coco (subject to availability) + Pure Caribbean Party
£20 Food Only Brunch Option 2pm included: 1 main course, As you can eat Sorbet Coco (subject to availability) + Pure Caribbean Party
Choice of food:
Chicken and waffle, plantain, avocado, Jerk sauce
Avocado on toast Salmon and scrambled
Vegan option: Pancakes, Vegan Chicken plantain, avocado, Jerk sauce
Please let us know by email if you have any allergy prior to the event at thesocialina@gmail.com. Otherwise we will be taker order on the day.
Admission:
Brunch at 2pm from £20 or Party only at 4pm from £10
£10 early bird Party only
£30 Early Bird Bottomless Rum Punch Brunch Option
£20 Early Bird Food Only Brunch Option
£15 Party only + Glass of champagne on arrival
More After.
MUSIC POLICY 🎧:
💃 Expect a predominance of BOUYON, ZOUK, DANCEHALL, KOMPA, SOUCOUS, SOCA and AFROBEAT. Do you have a special song that you want to dance on ? Please send us your request and we will do our best to play it on the day !
Your DJ's on the day:
📀 DJ ALI TWITZ
📀 DJ JUST VIBEZ
📀 DJ GATRESS
🚨 Very good to know 🚨:
♣ Sunday sorbet without Dominoes is no Sunday Sorbet! Feel free to bring your own as well if you have any!
♣ The Sorbets will not be on sale on the day but generously offered. Please be aware that those are Fresh Caribbean Sorbet Handmade on the day. If you will come to Party only, please allocate yourself enough time to make sure you at least get one cup!
♣ As you can Eat Fresh Handmade Sorbet are included in Brunch Packages
♣ Bottomless Rum Punch exclusively between 2.30pm to 5pm and for 1h from the time of the first serve.
♣ Lateness (after 5pm) will not be excuse.
♣ This is a strictly over 18's event and Photo I.D is 100% essential, you will NOT be let into the venue without it.
♣ Possibility to order bar food from 4pm to 9pm for the Party Only tickets.
📍 CONTACT 📍:
For all enquiries:
Contact Lina via Phone or WhatsApp: +447481035541
E-mail: thesocialina@gmail.com
See you there!
The CIL Team. 🔥