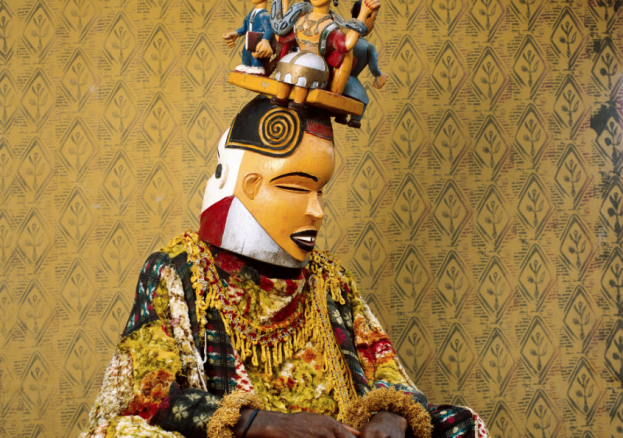 50 Golborne's new exhibition, titled 'Out of the Whirlwind's Radiance', which opened to coincide with Notting Hill Carnival, features artists Willie Cole, Emo de Medeiros, Fatoumata Diabate, Jakob Dwight, Phyllis Galembo, and Leah Gordon, who explore in their work the notions of carnival and masquerade and their various histories in Africa and its diaspora.
The exhibition's title references 'Mass Man', a poem by Derek Walcott in which he highlights the disjuncture between the joyful, festive celebration of carnival and a mindful remembrance of times of slavery: 'But somewhere in that whirlwind's radiance/ a child, rigged like a bat, collapses, sobbing'. Indeed, the commercialised nature of carnivals globally has been increasingly accused of reducing profoundly important cultural and historical events to a fetishized surplus value, a frequent criticism of London's own Notting Hill Carnival which takes place every year in the gallery's surroundings and with which this exhibition coincides. Out of the Whirlwind's Radiance seeks not only to celebrate but also to actively contextualise Notting Hill Carnival within its own broad historical and global scope.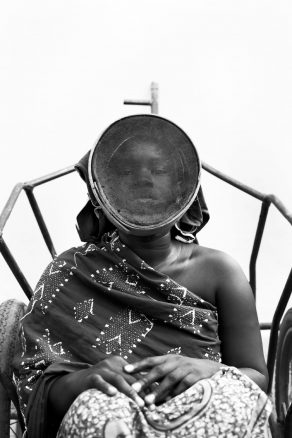 Franco-Beninese Emo de Medeiros' Guardian, a commanding and richly adorned masked figure inspired by the Beninese carnival practice of Kaleta, dramatically introduces the body as what Esiaba Irobi described as the site of multiple discourses for 'sculpting history, memory, identity and culture', the primary mode of cultural transmission between African and diasporic cultures. Brought by African-born slaves returning from Brazil to Ouidah, Benin, following the Malê slave revolt of 1875, Kaleta results from such phenomenological dialogue between African and diasporic cultures, and resembles a mix of Beninese Zangbeto masquerade, European and Brazilian carnival, and American Halloween. De Medeiros' piece is a physical manifestation of creolized cultural identities following slavery, echoing Irobi's analysis of West Africa's historic ability 'to create hybridised and syncretised cultic and popular culture that point to sophistication, complexity and resilience' as expressed through carnival traditions over the world. Through his choice of materials, Guardian demonstrates the artist's confidence in African culture continuing in this syncretic and sophisticated vein while navigating an increasingly globalised world: second-hand European trousers, a costume made from recycled plastic packaging, and a mass-produced Chinese mask.
Over the last thirty years, American artist Phyllis Galembo has been investigating the transformative power of full-body masquerade in Africa and its diaspora through her portrait photography. Through the systematic placement of her richly costumed sitters in front of neutral backgrounds such as painted walls and trees, the resulting sumptuous photographs are both revelatory and celebratory. The titles of the works 'Mami Wata' and 'Lasirene' are different names for the mermaid spirit prominent across Central – West Africa and Haiti respectively. These pieces demonstrate the co-evolution of religion and culture in West Africa and the Caribbean, and the importance of masquerade on both sides of the Atlantic. The mermaid spirit is usually accompanied by a large serpent who sits upon her shoulders, which can be seen in both works: in the headpiece of the Mami Wata masquerader and around the neck of
the Lasirene carnival performer. Galembo's third work, 'Grange Hill Jonkonnu' shows a Jamaican participant of Jonkonnu, a masquerade practice which was initially performed on the three holidays allowed to enslaved Africans in the English-speaking Caribbean: Christmas Day, Boxing Day and New Year's Day.
Also using photography as her main medium, Leah Gordon – who lives between Haiti and UK – explores what Myron Beasley described as the 'spaces between documentation, public memory and the phantasmic theatre of the historic imagination'. The exhibition features two of her signature black and white pieces in which the masqueraded subjects look back at the viewer in a direct, almost confrontational manner. 'Lanse Kòd', (Rope Throwers) features performers wearing horns, whose bodies are covered in greasy wet paint. This practice takes root in carnivals across the Caribbean and is prevalent at Notting Hill Carnival: participants echo the actions of enslaved Africans who covered their bodies with molasses, a by-product of the sugar cane grown in the plantations where they were forced to work. Masqueraders act out threatening others with ropes and chains, simultaneously echoing the violent actions of slave owners and the performances of the slaves, who in protest painted their bodies in the very product they were made to cultivate without remuneration. Gordon's other work featured in the exhibition, 'Chal Oska', shows another recurrent masquerade theme in Haitian carnival, which, unlike the practice pictured in 'Lanse Kòd', is specific to Haiti. The masquerader's mouth mask and hat satirize the appearance of the military commander Charles Oscar, who in 1915 was in charge of the police in Jacmel and was known to have killed over one hundred political prisoners resident in the local jail. Seen together, Gordon's works both show how carnival traditions can develop locally and globally, while demonstrating how masquerade in carnival contexts can be performances which demand social justice.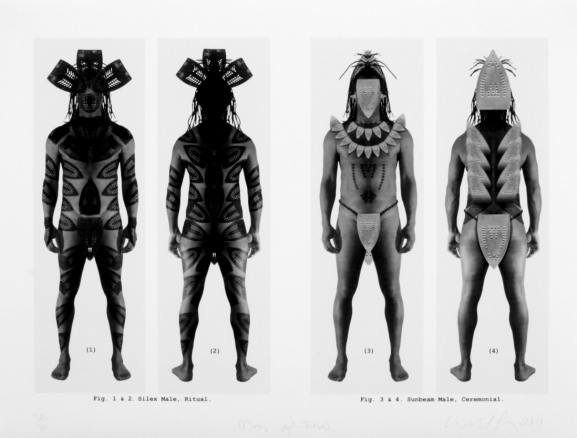 The work 'Men of Iron' by New York based artist Willie Cole bridges the potential for disjuncture between contemporary carnival celebrations and the memorialisation of its own historical context through his innovative usage of imagery. Here again the body is considered as a site of resistance: In this work Cole redefines what Malcolm X called 'the house negro' as a warrior rather than a domesticated and docile slave, and uses household irons as a visual metaphor for the well-known diagrams of slave ships, presenting them in masquerade formation on the human body. The piece simultaneously references the painful branding inflicted upon slaves as well as the many human lives that were exchanged for consumer goods and raw materials, while nodding towards our contemporary devotion to domestic products. Cole uses masquerade here to position the body again as a site of resistance in the context of postcolonial domesticity, furthermore allowing the viewer to remember that carnival in its contemporary form is a synthesis of cultures, taking root in traditions of both the oppressed and their oppressors, and the Old and New Worlds.
Fatoumata Diabate's works featured in 'Out of the Whirlwind's Radiance' are taken from her photographic series, 'Man as Object' and 'Man as Animal', which together are inspired by fables heard in her childhood and which appear in her dreams. Rather than depicting the body as a site of resistance, Diabate uses masquerade to present her sitters as a prompt for a personal and reflective introspection, while simultaneously referencing Mali's oral culture and storytelling traditions. She considers her works to
symbolise the connection between the past and the future: the artist thinks of each piece as a dreamlike tale not yet lived, and which demonstrates our sacred interconnectedness to objects, animals, trees and nature. The masks worn in each series are frequently made by the models themselves, and are deliberately fashioned from waste materials, positioning Diabate's masquerade practice firmly outside of known existing customs and beliefs.
The final artist to feature in the exhibition, is American Jakob Dwight, who uses algorithms to generate unique patterns which reference mask imagery. Through his placement of digital images within silhouettes of African masks originally found in Seattle Art Museum, the works examine the concept and form of the mask and the decontextualization of African artefacts when shown in museum settings, highlighting the necessarily live performative nature of masquerade. Through the visual discrepancies and evolutions between each digital image in the Autonomous Prism series, Dwight uses masquerade to question the nature of identity: are we the same from moment to moment? The vibrant, shimmering and constantly morphing shapes in this piece echo the notion of a radiant whirlwind, but a thoughtful and expansive departure from Walcott's critical use of the term.
More Events in Greater London Listings MORE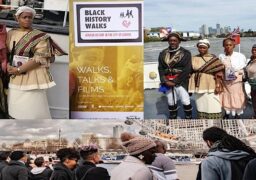 Westminster
Saturday 25 May
Your private, double-decker boat will start from the Temple Pier near Temple tube station on the Embankment. Your…