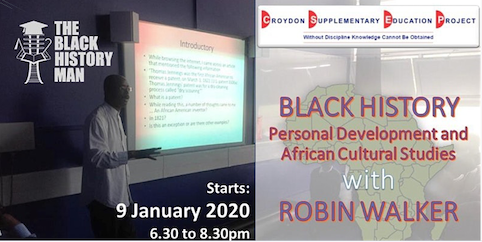 NEW COURSE AT BCA (Black Cultural Archives)
Black History, Personal Development and African Cultural Studies
Starting Thursday 9 January 2020 @ 6.30pm
This empowering course will introduce powerful information on Black History and Heritage. This data revolutionises the teaching of History, Science, Philosophy, etcetera. It will also revolutionise your perspective of what people of African descent can achieve. Finally, it will show you how to use the lessons learned from this heritage to develop yourself and your children.
WHAT IS THIS COURSE ABOUT?
Aimed at adults who are keen to move themselves and the community forward, Black Studies is a subject that encompasses the study of History, Politics, Sociology, Psychology, Science, Religion and Business, all taught from a Black or African perspective. It is an important part of Personal Development. It represents crucial knowledge that adults in the community should know if they want to be effective parents to their children.
WHO SHOULD ATTEND THIS COURSE?
* Beginners interested in learning Black History but do not know where to start
* Adults interested in personal development
* Activists interested in our rich community heritage
* Teachers interested in deepening their knowledge of Black Studies
* Anyone who wants to advance themselves and advance the community
YOUR COURSE LEADER
Robin Walker 'The Black History Man' is the leading Black Studies educator of the last twenty-five years. He has educated thousands of adults through his Personal Development, Black History, and African Studies programmes. He is the author of the classic When We Ruled and the best sellers: The Rise and Fall of Black Wall $treet and Black British History: Black Influences on British Culture 1948 to 2016. He appeared in the documentaries: The African History of Sport, Ancestral Voices 2, and Hidden Colors 4.
COURSE FEES
The course costs £157. You MUST get your tickets in advance from Eventbrite.
Course: Black History, Personal Development and African Cultural Studies
Centre: Black Cultural Archives, 1 Windrush Square, Brixton, London SW2 1EF
Times: Thursday evenings 6.30pm to 8.30 pm Course Fees: £157
Start date: 9 January 2020 End Date: 21 May 2020
For more information: Call Croydon Supplementary Education Project (CSEP) on 0208 686 7865 or Email: info@csep.org.uk
CLASS 1 AND INDUCTION DATE 9th January 2020
ALL MATERIAL AND HANDOUTS PROVIDED
RECOMMENDED READING LIST
GET TO KNOW YOUR HISTORY THROUGH
History, Political Studies, Sociology, Psychology, Religion, Science and Technology, Business and Economics
COURSE LOCATION;
BLACK CULTURAL ARCHIVES (BCA)
1 WINDRUSH SQUARE
BRIXTON
SW2 1EF
THIS COURSE IS BROUGHT TO YOU BY:
CROYDON SUPPLEMENTARY EDUCATION PROJECT
THE BLACK HISTORY MAN
TE-BAN & CO
More Lambeth Listings MORE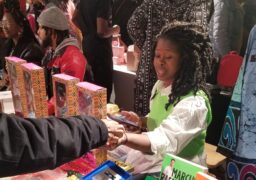 Brixton
Saturday 2 and Sunday 3 December
Join Black Culture Market for their exciting Winter event for Christmas. Black Culture Market is the destination to…