With music and lyrics from the Motown catalogue and book by Motown founder Berry Gordy the production features a sixteen-piece orchestra playing 50 Motown tracks including Ain't No Mountain High Enough, I'll Be There, Dancing In The Street, Stop! In The Name Of Love, My Girl and I Heard It through the Grapevine.  Charles Randolph-Wright's production tells the story behind the classic hits.
It began as one man's story… became everyone's music…and is now Broadway's musical. Motown: the Musical is the true American dream story of Motown founder Berry Gordy's journey from featherweight boxer to the heavyweight music mogul who launched the careers of Diana Ross, Michael Jackson, Smokey Robinson and so many more.
Motown: the Musical tells the story behind the hits as Diana, Smokey, Berry and the whole Motown family fight against the odds to create the soundtrack that changed America. Motown shattered barriers, shaped our lives and made us all move to the same beat. Now, experience it live on Broadway in the record-breaking smash hit Motown: the Musical!
Motown: the Musical tickets on sale now!
"A triumphant, lavish show. You may well see people dancing in the street"  Daily Telegraph
"The West End has never sounded so good" Heart FM
"Impossible to resist"  Daily Telegraph
"Motown arrives in the West End with the greatest soul pop music ever recorded" The Times
"The irresistible songs deliver the best night out in London" Smooth Radio
More Liverpool Listings MORE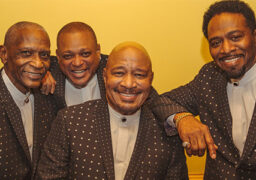 Liverpool
Friday 1th December
The Stylistics, who are currently on a sold-out tour in the US, are proud to announce their UK…