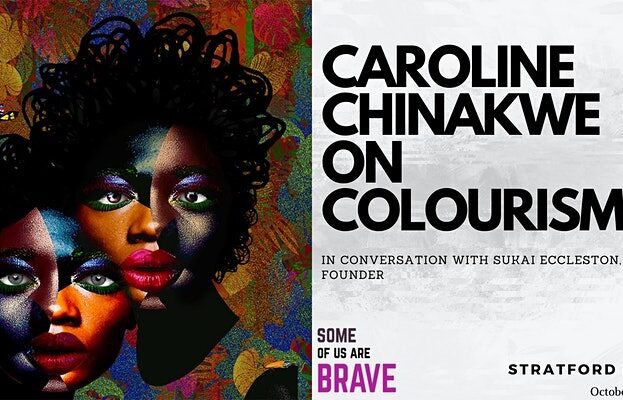 Join the launch of the reprised exhibition, Some Of Us Are Brave, with Caroline Chinakwe and Sukai Eccleston discussing Colourism!
CasildART is delighted to be hosting a special afternoon talk with Caroline Chinakwe, a Nigerian-born, London-based, mixed media artist on 9th October. Chinakwe will be in conversation with curator, Sukai Eccleston, discussing her new art collection 'Colourism ' and explaining why this is such a poignant and sensitive subject for Black women and women of colour.
Chinakwe is well known for her unapologetic vibrant visuals that capture the beauty found in black culture and style, while addressing social issues that affect people of colour.
Her latest collection, 'Colourism' can be seen in Some of Us Are Brave which includes the work of ten other emergent and talented Black female artists in the exhibition. Some of Us Are Brave, explores how the feminine, form and function are symbolised in the production of Black women's art and was first shown at the J/M Gallery in London.
Chinakwe challenges the notion of colourism through her bold and colourful collaged images. In conversation, she will be discussing the ugly reality of colourism and how this body of work confronts it by creating paintings that highlight the beauty in nature, to represent the beauty in us all regardless of our skin tone, while representing Black people in a beautiful and powerful light.
Chinakwe explains that 'Colourism' has been directly influenced by the race riots, BLM movement and society's negative treatment of people with darker skin tones. Colourism is not discrimination against a group of people, but against blackness itself, which Chinakwe witnessed first hand as a woman of colour, but also through her work within the fashion industry which strongly favours lighter-skinned people, and disproportionately affects women.
Through her astute awareness and experiences of colourism, Chinakwe recognises that racism cannot end until colourism, a white supremacist ideology that has contaminated ethnic communities, is also eradicated.
As the conversation around this topic is far from over, Chinakwe hopes that we can open our ears and our eyes to these artworks, plant them in our minds and make them grow. Through her practice, Chinakwe intends to eradicate the rotten roots of colourism and racism one by one and allow a new flower of hope and equality to bloom.
We hope that you can join us in this conversation and become a part of the movement.
Chinakwe is an alumni of London College of Fashion and started her career as a garment technologist, working for designers and high street brands, before focusing on a freelance career as a fashion designer and stylist.
After 20 years experience working in the fashion industry, Chinakwe's recent transition into art, developed from the lack of diversity in fashion when it came to how visuals including black models, were styled and depicted in mainstream media. As a mother of three herself, it was also a personal need to create and share images that would inspire and empower her children and the next generation.
Sukai Eccleston is the owner of CasildART and the curator of 'Some of Us Are Brave'.
'Some of Us Are Brave' opens at Stratford Library on 8th October and runs until 30th October. You can book your FREE tickets here.