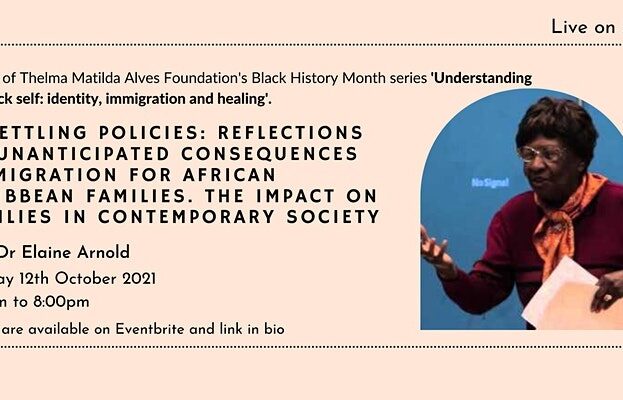 As part of Thelma Matilda Alves Foundation's Black History Month series 'Understanding the black self: identity, immigration and healing'. We are holding a talk with Dr Elaine Arnold to learn more about the impact of separation and reunion for African Caribbean families. We want to create a space for black women to come, listen, learn, share and ask questions.
You are invited to join us to discuss and learn more about separation, reunion and the impacts of immigration.
Dr Arnold will give a brief snapshot of the origins of African Caribbean Families, to place the families in context and to give some indications of the Caribbean culture and child rearing practices. She will highlight some of the problems faced through separation and reunion of Caribbean Families as explained by the mothers in the samples of her research, in work with clients. Little or scant attention is paid to the to the impact of the disruption of attachment relationships which often affect adversely the physical and emotional well being of the individual.
More about Dr Elaine Arnold:
Elaine Arnold ,PhD. Was born and educated in Barbados ,West indies. She trained as a teacher in Trinidad (Trinidad and Tobago Government Teachers Training College) Qualified as a Psychiatric social Worker (Manchester University, England).She taught in primary Schools in Trinidad , West Indies, Secondary school in London ,UK and lectured on the MSC Social Work course at UCL's Goldsmith's College and on the MSW Course at Sussex University, where she introduced the concept of Intercultural Social work .Elaine researched into the consequences of separation and loss and subsequent reunion of children and parent/s. Some of the reunions were traumatic for children and parents. She was a counsellor and Director of Training at the Nafsiyat Intercultural Therapy Centre, Islington ,London for several years, and contributed to training programmes for Statutory and Voluntary sectors of the country.
She has been the Director of Charitable Organisation, "Supporting Relationships and Families"(SRF) formerly called "Separation and Reunion Forum" which was founded in 1999,and has lectured nationally and internationally, in an attempt to raise the awareness of the disadvantages of separation from the primary carers of children during the early years of life.
More Online Events Listings MORE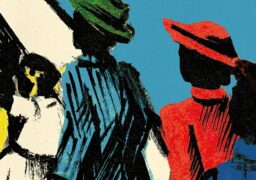 Online Events
Friday 8 December
Join us online for Twenty-Eight Pounds Ten Shillings: A Windrush Story by Tony Fairweather, where we'll delve into…