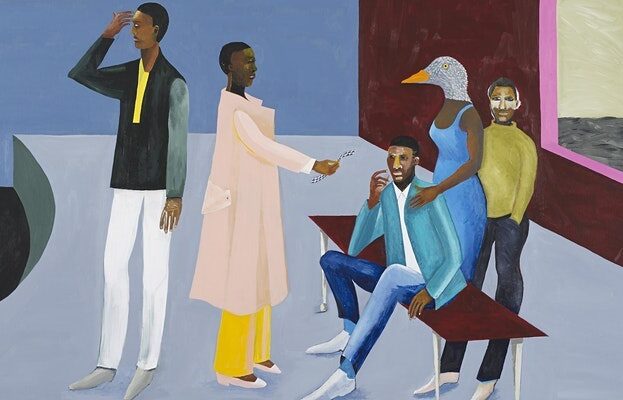 This is a live online event hosted by The Research Forum at The Courtauld with the Gender and Sexuality Research Group
The platform and log in details will be sent to all registered attendees at least 48 hours before the event. Please note that registration closes 30 minutes before the event start time.
Important: If you have previously ever opted out of Eventbrite emails you will not receive the log in details for this event after registering. Please email researchforum@courtauld.ac.uk if you do not receive a confirmation email. Please check your junk folder before emailing us just in case it is in there.
One of Britain's most important and celebrated artists and curators, Turner Prize Winner Professor Lubaina Himid CBE has spent decades exploring the politics of race, gender and class. Early works like sculpture We Will Be (1983) or mural Justice, Unity, Equality, Freedom (1985) proclaim confident Black figures in dialogue with Black history, culture and resistance movements: mixing together visions of the past and potential futures to proclaim in a vital vision. Himid's practice is keenly attuned to the ways in which contemporary politics continue to be shaped by or draw energy from colonialism and struggles for liberation. In the sculpture Toussaint L'Overture (1987), a portrait of the 1791-1804 Haitian Revolution leader is collaged together with current-day newspaper coverage of racist violence – accompanied by the caption: 'this news wouldn't be news if you had heard of Toussaint L'Overture'. Alongside her artmaking, Himid's curatorial practice also had a huge impact on art history: exhibitions including Five Black Women (1983) at the Africa Centre, Black Woman Time Now (1983) at Battersea Art Centre, and The Thin Black Line (1985) at the ICA.
In her painting Between the Two My Heart is Balanced (1991), two Black women sit in a boat with a stack of navigation charts between them. The work reimagines James Tissot's Portsmouth Dockyard (c.1877) in which a Highland Sergeant sits between two white women he is picking for a romantic partner. In Himid's reinterpretation, her figures tear up the navigational charts and throw the pieces overboard, in what the artist described as a "call to arms". The artist's revolutionary images are also accompanied by and interlinked with demands for historical justice. Her sculptural installation, Naming the Money (2004) responds to the seventeenth- and eighteenth-century practice of wealthy white portraits accompanied by Black servants or enslaved people. In Naming the Money these figures are stripped of their white masters, and together form an army or a collective imaginatively standing together. Portraits of enslaved people also adorn Himid's series of painted antique porcelain, Swallow Hard: The Lancaster Dinner Service (2007), exposing how the economics of slavery underpinned British society and culture.
Himid's practice insists that racism is not just the preserve of the conservative right, but is as much a part of liberalism: her series Negative Positives: The Guardian Archive (2007-15), painted newspaper pages draw attention to the portrayal of Black people in the British press. Considering how the legacies of slavery and colonialism are still ongoing in the present, historical violence sometimes haunts Himid's subjects. Her work Le Rodeur: The Exchange (2016) responds to the murder of enslaved people on a French slave ship in 1819 – drowned because they were considered no longer profitable after contracting an eye disease. The painting portrays a series of Black figures, one with a bird's head, who gather in an abstract interior overlooking the sea: a surreal and speculative vision of otherworldly times and places or possible futures to come. Following exhibitions at Modern Art Oxford, Spike Island and Nottingham Contemporary, Himid won the 2017 Turner Prize, and will be holding a major retrospective at Tate Modern in 2021.
Professor Lubaina Himid CBE (b. Zanzibar, 1954) lives and works in Preston, UK, and is Professor of Contemporary Art at the University of Central Lancashire. She is the winner of the 2017 Turner Prize. Himid has exhibited extensively in the UK and abroad. In 2021 Himid will present a major monographic exhibition at Tate Modern, London. Significant solo exhibitions include Spotlights, Tate Britain, London (2019); The Grab Test, Frans Hals Museum, Haarlem, The Netherlands (2019); Lubaina Himid, CAPC Bordeaux, France (2019); Work From Underneath, New Museum, New York (2019); Gifts to Kings, MRAC Languedoc Roussillon Midi-Pyrénées, Sérignan (2018); Our Kisses are Petals, BALTIC Centre for Contemporary Art, Gateshead (2018); The Truth Is Never Watertight, Badischer Kunstverein, Karlsruhe (2017); Navigation Charts, Spike Island, Bristol (2017); and Invisible Strategies, Modern Art Oxford (2017).
Selected group exhibitions include Frieze Sculpture, London (2020); Risquons-Tout, WIELS, Contemporary Art Centre, Brussels (2020); Slow Painting, Hayward Touring UK travelling exhibition (2020); En Plein Air, The High Line, New York (2019–2020); Sharjah Biennial 14, UAE (2019); Glasgow International (2018); Berlin Biennale (2018); The Place is Here, Nottingham Contemporary, UK (2017); Keywords, Tate Liverpool (2014); and Burning Down the House, Gwangju Biennale (2014). Her work is held in various museum and public collections, including Tate; British Council Collection; Arts Council Collection; UK Government Art Collection; Museum Ludwig, Cologne; Victoria & Albert Museum, London; National Museums Liverpool; Whitworth Art Gallery, Manchester; Hammer Museum, Los Angeles; and Rhode Island School of Design, Providence. A monograph, titled Lubaina Himid: Workshop Manual, was released in 2019 from Koenig Books.
More Online Events Listings MORE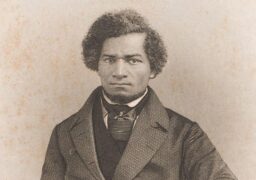 Online Events
Wednesday 6 December
A virtual tour highlighting sites around the UK/Ireland where freedom fighter Frederick Douglass had a strong impact with…