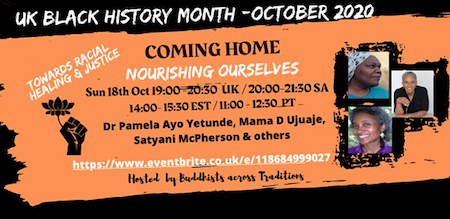 We come together to honour our African/Black Ancestors during Black History Month in the UK . We come home to our bodies, our minds to honour, heal and celebrate. We come home to remember the evolution of human life – our motherland -Africa
Coming Home is a reminder that racial healing and justice is part of every day life. We have gathered Buddhist and Mindfulness teachers of Afrikan descent from South Africa, UK and USA to honour our ancestors, our heritage and our contributions which has contributed to the culture, wisdom, wealth and development of countries around the world.
Each event is different, hosting different guests, themes which relate to our everyday living and will include meditation, talks, prayers, music and opportunities for you to engage in.
This event will cover how in nourishing ourselves holistically (body, food, mind, thoughts and emotions) we can journey towards racial healing and justice. We welcome Dr Pamela Ayo Yetunde, Mama D Ujuaje and Satyani McPherson – who will offer us their wisdom on this topic.
Please offer donations for the time and commitment of the teachers. Use the link to donate in advance: paypal.me/BaTDANA
Pamela Ayo Yetunde, Th.D. is a Community Dharma Leader (Insight Meditation) and Zen student. She is the co-editor of "Black & Buddhist: What Buddhism Can Teach Us about Race, Resilience, Transformation & Freedom" and her other books about Buddhism and womanist theology are "Buddhist-Christian Dialogue, U.S. Law and Womanist Theology for Transgender Spiritual Care" and "Object Relations, Buddhism, and Relationality in Womanist Practical Theology" She has contributed to Buddhadharma and Lion's Roar magazine: https://www.lionsroar.com/author/pamela-ayo-yetunde/.
Ayo is a pastoral counselor with Center of the Heart (www.centeroftheheart.org) and teaches pastoral care and counseling, and Buddhist chaplaincy at Upaya Zen Center.
Mama D Ujuaje is a co-curator of 'The Food and Otherworldly Sensory Journeys' and a natural and life-long learning facilitator through plant whispering and embracing the mysteries of the primordial. Mama D works towards encouraging people of all descriptions to embrace agency in affirmatively reshaping our shared environments. She encourages considerate, mind-and-body-full and wholistic living through the use of a range of enjoyable, reflective, engaging and sometimes disruptive experiences. Transformation, Mama D feels, requires at least momentary detachment!
Mama D has worked in different physical environments, learning from all the elements that nourish and now realise that there is still more digesting to do. Food is such a good metaphor! She is a Food and other Social Justices advocate and organiser, writer and mediator. Mama D works at soil-soul level where the grass roots are to be found. She supports the navigation of our relationships within the context of the ordinary extraordinary and using the me-ness of us-ness to bring Ubuntu irrationalities into our exchanges.
Satyani McPherson, since discovering meditation and yoga over three decades ago, she has cherished the healing and illuminating benefits of these practices. A passion for spiritual insight has persisted since childhood. This quest continued as a philosophy major in college; a jazz musician in NYC, LA, and Honolulu; and while doing video documentation and living in Africa, Europe, and Asia. Since returning to the USA her life has been nourished by silent mindfulness retreats and nondual teachings. Satyani is certified through the Mindfulness Yoga & Meditation Training Program (Spirit Rock Meditation Center), Teach .b (Mindfulness in Schools Project), and the Lineage Project (Mindfulness Practices for Youth at Risk). She has found it rewarding to facilitate mindfulness classes for youth in various educational programs and for women in the criminal justice system. Satyani is inspired to share practices that can empower people to more effectively navigate life's circumstances from their innate conscious awareness.
More Online Events Listings MORE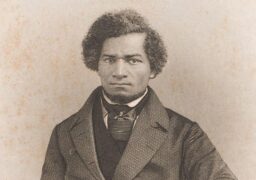 Online Events
Wednesday 6 December
A virtual tour highlighting sites around the UK/Ireland where freedom fighter Frederick Douglass had a strong impact with…