A hidden Black History of what happens when oppressed people decide to take matters into their own hands.
Paul Crooks captivates audiences with his accounts of Jamaica's rich history of resistance and black empowerment.
Paul will encourage you to draw your own conclusion on a particularly turbulent time in the history of the Caribbean, when runaway slaves established communities in mountainous regions of Jamaica, and resisted attempts by British colonisers to encroach on their land.
WHO IS THIS TALK FOR?
The talk is suitable for you if you want to develop your knowledge and understanding of black history
HOW TO GET THE EVENT LINK
Links to the one-hour online live cast will be provided via an automated email an hour before the event starts.
ABOUT THE SPEAKER
Paul Crooks is unique as a published author and genealogist with a specialist interest in Black ancestry and African Caribbean history. He came to prominence with his pioneering research into African Caribbean genealogy During the 1990s, when he became the first to trace his family history back 6 generations, from London to his ancestors captured off the West African coast 200 years ago. He discovered his ancestors were enslaved on a sugar plantation in Jamaica. His books, Ancestors and A Tree Without Roots – The Guide To Tracing British, African and Asian Caribbean Ancestry brought him international recognition for his breakthrough research into Black ancestry.
Paul appeared on Who Do You Think You Are? with Moira Stuart as the expert in African Caribbean family history. He is credited with inspiring an upsurge in interest in Black and British ancestry. He is also recognised for having spawned an industry in African Caribbean genealogy.
WHAT PEOPLE ARE SAYING ABOUT ANCESTRY TALKS
Watch and learn more about Ancestry Talks with Paul Crooks.
More Online Events Listings MORE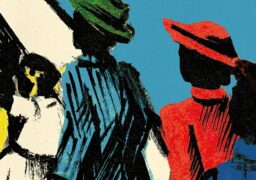 Online Events
Friday 8 December
Join us online for Twenty-Eight Pounds Ten Shillings: A Windrush Story by Tony Fairweather, where we'll delve into…