In Africa people also write in Spanish. Donato Ndongo-Bidyogo, Ciriaco Bokesa, María Nsué Angüe, Melibea Obono are some of the names of Equatorial Guinean writers who are part of the practically unknown African literature in Spanish. A kind of collective amnesia that began in Spain after Equatorial Guinea independence in 1968 and that also extends to Western Sahara and everything that reminds us that there is also a Latin Africa.
Juan Tomás Ávila Laurel, with whom we will talk at this meeting, is probably the most recognized and internationally translated Equatorial Guinean author. Through his words we will discover the cultural clash between Spaniards and Guineans that constitutes the essence of his latest work, Cuando a Guinea se iba por mar (2019).
The documentary film El escritor de un país sin librerías (The writer of a country without bookstores) by director Marc Serena, narrates Ávila Laurel's life. Thus we discover a country like Equatorial Guinea in which, even today, children learn at school in Spanish. Ruled since 1979 by Teodoro Obiang, this film shows first-hand the reality of a country where bookstores never existed and where girls and boys grew up without books. Join Juan Tomás Ávila Laurel in conversation with José An. Montero and Inés Villodre.
This event is part of London Spanish Book & Zine Fair 2020.
Sponsored by Instituto Cervantes London
This is a WEBINAR event in SPANISH. This event will be held online via ZOOM. Access links will be sent to attendees in advance of the event. For any technical problems, please email info@londonspanishbookfair.co.uk
Please check the local time if you are not based in the UK
Thursday 8th OCT / 5 pm UK
(12 pm Mex- Colombia-Ven / 1 pm Arg-Chile / 6 pm Spain)
TICKETS
In order to make this event more accessible to those on a low income and at the same time supporting the London Spanish Book & Zine Fair, we decided to use a scale ticket price of £0-£10.
We kindly ask you to have a donation ticket based on your economic circumstances. Your ticket donations go towards supporting the London Spanish Book & Zine Fair and supporting the authors that participate at this webinar.
Please remember to cancel any free ticket you don't intend to use as tickets are limited.
London Spanish Book & Zine Fair 2020
Supported by La Tundra.com
UK's Platform in Spanish since 2011
Juan Tomás Ávila Laurel (Equatorial Guinea)
Born in Malabo, but originally from the small island of Annobón, Juan Tomás Ávila Laurel belongs to the ethnic minority of the Annobonese of which there are barely eight thousand people left in the world. Considered a benchmark of postcolonial African literature, he is the most translated author in Equatorial Guinea.
Author of many books such as Equatorial Guinea: vísceras, Arde el monte and Pinga Rilena. In 2013 Verbum Publishing House collected a wide sample of his work in Letras Transversales: Obras Escogidas. His latest work published in Spain, Cuando a Guinea se iba por mar(Carena-2019), tells the story of the Spanish historian José Planes de Palacio y Toro's arrival in the fifties of the last century to the country, returning to look out for the traces of one of his ancestors, who took part of the Spanish expedition to the island of Annobón in 1778.
El escritor de un país sin librerías (2019) The writer of a country without bookstores, a documentary film directed by Marc Serena, was shot in Equatorial Guinea without authorization from the regime and shows Juan Tomás Ávila Laurel as the main character. The film was presented at the 64 Valladolid International Film Week where it competed in the official section and has not been able yet to premiere in Equatorial Guinea.
José An. Montero (Spain)
Journalist, geographer and creative director. He is currently professor of Didactic of Geography and Social and Cultural Environment at the University of Castilla-La Mancha and creative director of the MakingUCLM Laboratory, from which he has directed several documentaries, magazines, classical theater collections and urban artistic intervention projects. He has been the artistic director of various museum projects such as the interpretive planning of the Roman city of Valeria and the Ethnographic Museum of Huete. He is part of the SocialGIF research team, specialized in Fire Ecology and Circular Economy.
In journalism, he is editor of Nueva Tribuna (Público) at the cultural section, director of Espacies and the environmental education magazine La Circular. Author of the podcast Radio Difference (ElDiario.es CLM) and regular contributor to cultural magazines such as La Tundra, Artez, Viceversa Magazine, Íkaro, Lima Gris, Diario Folk, Yaconic and Nokton Magazine.
Inés Villodre (Spain)
Cultural journalist. Editor in Espacies and presenter of the homonymous program of Radio Difference. Collaborator in numerous media such as La Tundra, Nueva Tribuna, Íkaro and Todo Literatura, where she specializes in new narratives.
More ONLINE EVENT Listings MORE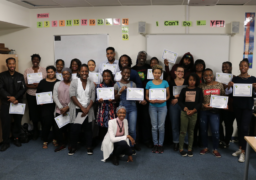 ONLINE EVENT
January 14, 2021 - September 11, 2021
ONLINE COURSE: Introduction to the Study of Black History, Politics, Sociology, Psychology, Science, Art, Music and Religion Starting…