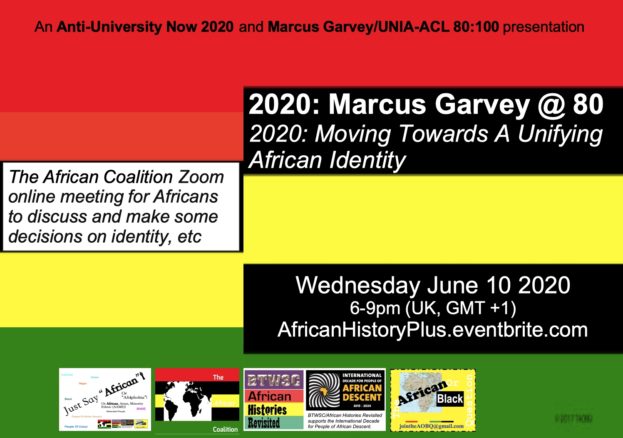 This is a forum for people of African heritage to discuss issues about racial identity and representation, etc.
An Anti-University Now 2020 and Marcus Garvey/UNIA-ACL 80:100 presentation
In commemorating the 80th anniversary of the passing of pan-Africanist icon Marcus Garvey in London, The African Coalition is convening a Zoom online meeting for Africans to discuss and make some decisions on identity, etc.
To make the UN's International Decade For People Of African Descent 2015-24 initiative meaningful, the 'Moving Towards A Unifying African Identity' discussion will focus on the following points drawn from TAOBQ (The African Or Black Question) Manifesto 2020+:
1. Describe people of African heritage as African or as of African heritage (not origin), instead of black.
2. The opportunity for study of African history or Africana to be made more accessible, and either descriptor be used, instead of black history or black studies.
3. When itemising racial discriminations, then use Afriphobia (note the spelling with an "i"), which refers to the prejudice or discrimination against; fear, hatred, or bigotry towards people of African heritage and things African, instead or anti-black racism or lumping it under racism.
4. Use AAME (African, Asian, Minority Ethnic) terminology, instead of BAME (Black, Asian, Minority Ethnic), which excludes the African identity.
5. Make time to observe August 31 as African History Reflection Day.
6. A final decision to be made on whether to use the 4 or 5 band Global African quad flag, which combines the colours of the two pan-African colours, as the visual identifier of African-centred matters.
The African Coalition event is led by BTWSC/African Histories Revisited, TAOBQ (The African Or Black Question) and supporters including Bro Glenroy Watson, Bro Minkah
Marcus Garvey/UJNA-ACL 80:100
More Online Events Listings MORE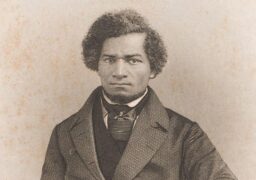 Online Events
Wednesday 6 December
A virtual tour highlighting sites around the UK/Ireland where freedom fighter Frederick Douglass had a strong impact with…