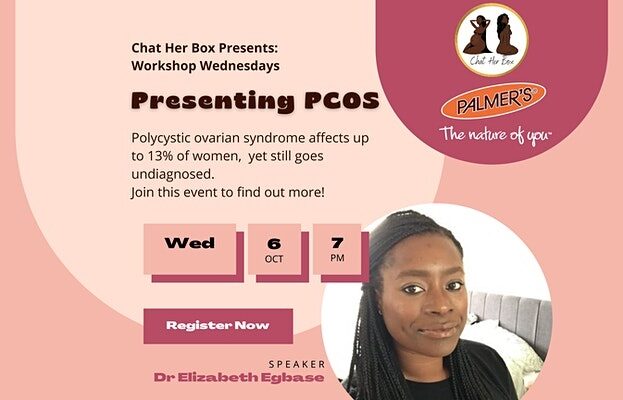 September is PCOS awareness month and as it draws to an end, Chat Her Box will Presenting PCOS at our Wednesday Workshops. Want to find out more about the condition? Join us!
​
We welcome Dr Elizabeth Egbase (@lizzlaa) who will be speaking at the event. Dr Elizabeth is an obstetrics and gynaecology consultant working in a busy london teaching hospital, her areas of clinical interest lie in high risk obstetrics and acute gynaecology. She has a particular interest in medical education, diversifying and decolonising the medical education space. She has completed a MA in medical education undertaking a qualitative study looking into impact of role models on black female medical students, at Queen Mary's University. Other areas of interest include clinical education around patient safety, human factors and team training – particularly using tools such as simulation training and debriefing and serves as a member of the Multidisciplinary Advisory Panel for the charity babylife line.
​Sign up using the link in the bio. The first 15 to sign up and attend will receive a gift bag from @palmersuk. T&Cs apply.
Palmer's Goodie Bags Gifting Terms and Conditions
Eligibility To Receive Palmer's Goodie bags
1. Entrants must sign up to one of the Chat Her Box Online Workshops and be one of the first 15 people to do so.
2. Entrants must be 18 or over and resident in the United Kingdom. Only one entry per person is permitted.
Method Of Entry
1. Sign up to one of the Chat Her Box workshops by registering on Eventbrite
2. The first 15 people to sign up and subsequently attend the workshop will be contacted to receive their complimentary Palmer's Goodie bag.
3. E.T. Browne Drug Co. Inc (ETB) accepts no responsibility for any technical difficulty experienced in signing up.
Goodie Bags
1. The lucky recipients will receive the content below. Goodie bag contents may vary, subject to availability.
Palmer's Massage Lotion for Stretch Marks 250ml
Palmer's Tummy Butter for Stretch Marks 125g
Palmer's Skin Therapy Oil 150ml
Palmer's Coconut Oil Formula Conditioning Shampoo 400ml
Palmer's Cocoa Butter Formula Hand Cream 60g
More Online Events Listings MORE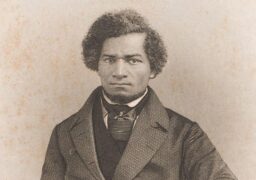 Online Events
Wednesday 6 December
A virtual tour highlighting sites around the UK/Ireland where freedom fighter Frederick Douglass had a strong impact with…